Let poetry madness begin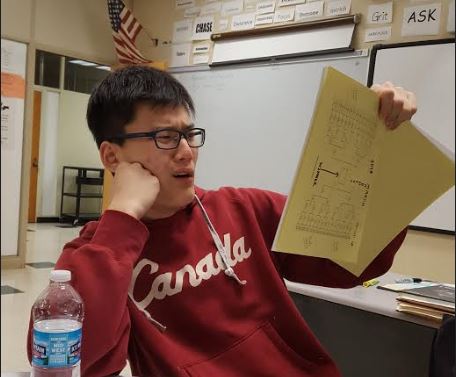 While basketball teams are facing off on court and national television with March Madness, AP English Language and Composition (AP Lang) juniors are writing poems and competing with their own brackets. This is an annual occasion for AP Lang classes and a nice break from writing only synthesis and rhetorical essays.
All AP Lang students were able to write a poem in any style and of any topic. The only restrictions was that it could not be a haiku and had to fit on one page.
"The March Madness poetry competition is amazing first because we got to write poems, which is out of most of our comfort zones and something completely different from the usual essay," said Swati Bhageria, 11.
The teachers read over each others' students' poems and chose 16 from each class to be put in the Poetry March Madness book for a total of 64 poems to be put in the book.
The 64 poems were placed in random order and numbered. Not knowing who wrote what poem made voting less biased and more interesting to see what poems peers had written.
"Along with this, it was cool to read my classmates' poems and see the interesting insights they have and how beautifully they convey them," Bhageria said.
The topics were very diverse, ranging from solemn topics such as death to random topics such as oranges. The structures were different: some were one long stanza, others were several. Some were short and simple, others were long and sophisticated.
They were cut down to 32, the Sweet Sixteen, the Elite Eight, and then the Final Four in the classroom in a democratic fashion. One could vote for one poem of the two going against each other or choose to opt out. It was particularly difficult to choose between poems that had contrasting styles.
After cutting down to the Final Four, a March Madness Poetry party was on Fri., Apr. 6 to announce the final victor and Final Four as well as additional awards of the teachers' favorites. The party took place during lunch/ACE bell in room 233, and students brought chips, baked goods, and other food to share.
After the final voting, the author of the winning poem was revealed; it was called "Cold Mornings," written by junior Nehalem Chudnoff. Other award winners were juniors Claire Minton, Grant Gvozdanovic, Meghna Santra, Nathalie Bonin, Abhilash Yarlagadda, Grace Creek, and Theodore Weng. Last year's winning poem was written by senior Asa Hodrick.