Adaptive PE students prove everyone can bowl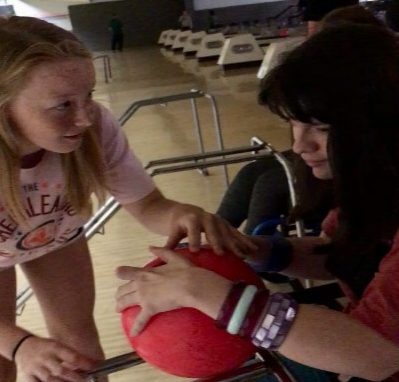 On Fri., Aug. 31, students in the Adaptive Physical Education class enjoyed a fun experience: bowling.  
Adaptive PE is a class that adapts physical activities to fit the needs of special needs students. For additional information, click here.
During the week, the students do a variety of activities including exercising in the Gregory Center, yoga, swimming, and games, however, the bowling field trips are a favorite of many students.
Several times per semester, the class heads to Crossgate Lanes. They are joined by other students from the "transition" class, which is for students with special needs who have graduated but can still attend SHS. Additionally, students from SJH attend.
Also on the field trip are peer mentors. These students help out in the class daily, allowing students with special needs to work and create bonds with their peers.
Sophomore Maya Berry said her favorite thing about bowling field trips is, "seeing the students have fun outside of school and how excited they get when you tell them it's bowling day."
While not every student can bowl in the "traditional way," each can be a part of the game in the way that suits them. For example, students who utilize a wheelchair can bowl by using a ramp.
The individual can aim the ramp, then push the ball down it, allowing them to participate despite being unable to stand and roll the ball. For other students, it simply takes a little teamwork between the student and a peer.
The Adaptive PE students enjoy the encouragement from their peers. In the end, the students who score highest in each lane get a crown and feel proud of the day's accomplishments.
Overall, the trips have an important impact on the students.
"I try to get [the students] used to an activity in the community that they can then go with their families or later on in life… and be comfortable participating," said Mrs. Paula Anstaett, Adaptive PE teacher.
The trips, which include lunch afterward, also help the students learn important life skills.
"There are many other skills that are practiced such as taking turns, cheering for our classmates, asking for things such as a drink or bowling shoes…, and ordering at a restaurant, paying the bill and tipping the waitress," Anstaett said.
Bowling is a great way for the Adaptive PE class to get exercise while having fun at the same time.