Astronomy Club parties under stars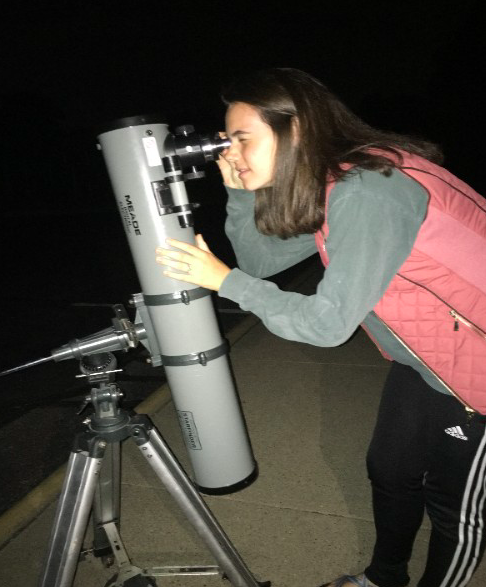 Students lay on blankets, gazing up at the stars. They look through telescopes in awe at faraway planets. They eat snacks, talk to friends, and have fun. This was the scene of Astronomy Club's first stargazing party on Sat., Sept. 29.
Astronomy Club is new to SHS this year. It was started by senior Peyton Gilhart, the club's president.
The party was held in front of E.H. Greene School. The location was picked because it has less light pollution than other places, making it easier to see stars.
There were multiple telescopes set up at the stargazing party through which students could view planets Saturn, Jupiter, and Mars.
Many students used apps on their phones such as SkyView to find the locations of planets and constellations in the night sky. There were also a few science teachers there who helped the students use the telescopes and answered questions.
While stargazing is a fun activity, it is not always safe. Going to a park late at night with only a friend or two can be dangerous. Luckily, the club allows students to safely enjoy stargazing in a large group.
"I started astronomy club because I really love the sky…I started because I was like, 'what if there was a place where it was safe for everyone to go and look at the sky?'" said Peyton Gilhart, 12.
Stargazing parties are not the only activities the club partakes in.
"Every other Friday we meet…and we do a constellation of the week, and it's just very interesting to learn where things are in the sky. And then we go stargazing every month which is really cool," Gilhart said.
At Friday meetings, the students learn about the sky and universe. One major part of the meeting is learning about the constellation of the week. Students can then attempt to find the constellations while stargazing.
At the last meeting, Gilhart, as well as the other club leaders, juniors Jade Stella and Ellie Stadelmann, taught students about the constellation Ursa Major. To learn more about this constellation, click here.
Mr. Robert Seiple is Astronomy Club's advisor. The meetings are held in his classroom, room 241, which is located in the new science wing.
Seiple, a geology and astronomy teacher, said he hopes students get  "a sense of fascination with the universe and the world" from the club.
For more information about Astronomy Club or the stargazing parties, check the SHS announcements or come to the next meeting.