Early bird gets worm: applying early to college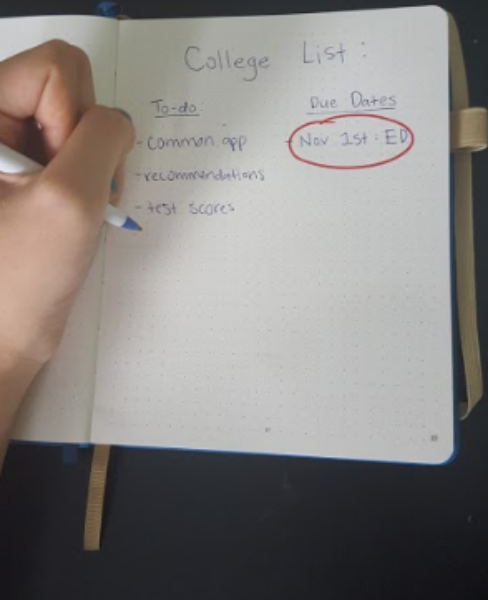 The race for college admissions has begun. The early admission deadline is Nov. 1 (some are Nov. 2) and seniors applying early action or early decision are working hard on applications, essays, and forms as the last month wanes day by day.
"I'm applying early action to Georgia Tech because you have to apply [early action] to be considered for merit-based scholarships," said Nandita Kulkarni, 12.
There are two different ways to apply early: early decision or early action. Early decision can only be applied to one school and is binding if accepted. Early action is not binding and can be to multiple schools.
"I'm applying early decision to Johns Hopkins," said Alexander Karev, 12.
Early applications are turned in two months before regular admissions, which is due Jan. 1. Students applying early should have already asked their respective teachers and counselor for any needed recommendation letters and other materials.
"I'm thinking of applying to UPenn but I'm not sure because if UPenn only does early decision which is binding and no early action. My brother went to UPenn and I have a strong attachment to the school," said Swati Bhageria, 12.  
Students submit the Common Application, official test scores, recommendations, transcripts, and more. The most stressed over factor is the essays; students usually begin working on their essays in the summertime for early applications.
Early appliers also should work on financial aid forms: the Free Application for Federal Student Aid (FAFSA) and the CSS Profile opened up online on Oct. 1.
FAFSA is a free financial aid form for college tuition and expenses. The CSS Profile can be filled out on College Board and requires a fee to be filled out and send to colleges depending on your family's financial level.
Deadlines vary depending on colleges, so referring to specific colleges you are applying to is highly recommended. Meeting due dates are crucial in the college applying process.
Learn more about the college application process because educating yourself earlier will save a lot of stress and angst later on when you find out there are so many required materials you did not know about. There are many informative websites with college application videos such as Khan Academy.
Sources: