SHS Aves Theatre takes up 'Grease'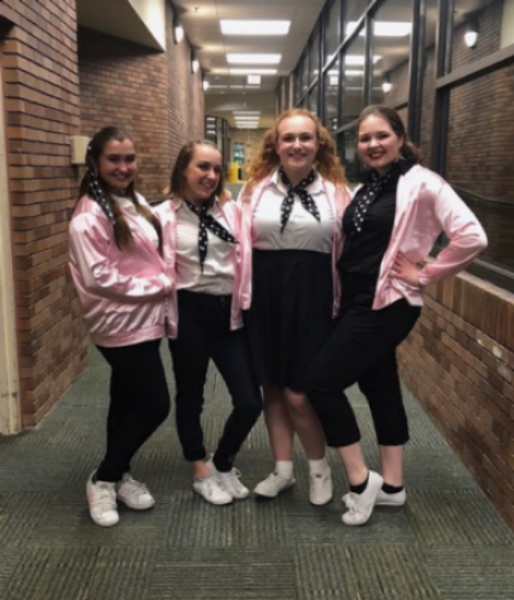 The incredibly successful, world-renown movie musical, "Grease," is now being brought onto the stages of the SHS Aves Theatre.
From "Irena's Vow" to "The Addams Family", the Aves Theatre is known for recreating prominent stories and musicals. For the 2018 fall musical, the theatre chose the 1971's romantic-comedy hit musical "Grease."
Aves Theatre's "Grease" will be performed at 7:30 p.m. on Oct. 26 and 27 and Nov. 2 and 3.
The SHS Aves Theatre spent countless hours preparing and perfecting this musical. Rehearsing started on Aug. 28 and continued for eight weeks, with students staying after school for up to seven hours.
Junior Eli Cohen plays the character Kenickie Murdoch in the musical, while junior Dhruv Weaver works as a member on the sound team. Although one is seen on stage while the other behind the scenes, both students worked extremely hard to continually refine the show.
Both students shared their moments of pride.
"I am most proud of when the [whole show] comes together, and it's very satisfying to see [the results of] the two weeks [of tech rehearsals] and hard work," Weaver said.
"I am proud of the ability of the people, especially the guys, in our cast who learned all these flips; we implanted acrobatic stuff [in the show], and it's difficult things that look really cool," Cohen said.
Not only can audience members look forward to impressive stunts, but they can also expect amazing choreography, fun music, and of course, phenomenal acting.
"We had a new choreographer for this show and she really pushed us to be better and she taught us cool moves. I think it's going to be great, [and] I'm excited to for people to see," said Erin McDonough, 11, who plays Frenchy.
"My favorite part [of the musical] is singing my song–it's song about cool cars and how I get girls. I love acting and pretending to be someone who is super arrogant and self-obsessed. It's enjoyable to take part of that character and sing that song," Cohen said.
Tickets will be on sale for ten dollars at lunch from Wednesday to Friday and on the Aves Theatre website, or for $12 at the door of the musical.
Sources: