Christmas is focused on presents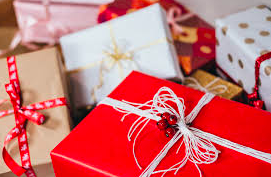 Jingle bells, jingle bells, jingle all the way. Over the years, Christmas has become more materialistic. The focus has changed from spending time with people one cares about, to opening gifts and getting items.
I will admit that I do enjoy to receive presents and open them on Christmas, but I enjoy other people opening presents I got for them. I have the most fun during the present opening time, and not just after I have all my gifts.
Although I feel this way, some SHS students and especially younger children do not. They may be thankful, but they immediately play with their toys or new iPhone XR.
When I hear other kids that brag about what they received or even have a long list of items, I am reminded of how materialistic we are. Many enjoy a new item, instead of more time with family or a conversation.
While sometimes I do become wrapped up in the materialistic side of Christmas with all the presents beneath the tree, I always remember that I would be happier spending time with my family than spending time alone.
Think about this: would you rather be opening presents at your house with people you love, or would you want to open presents alone in a random apartment or house without anyone to celebrate Christmas with?
Personally, I would rather spend time with my loved ones, and not even open presents, than open gifts alone. While some might focus on the materialistic side of Christmas and the holidays, when you think about it, you probably enjoy the family time more than the presents.
When my mother was little, she would be surrounded by family all the time, and especially throughout the holidays. I wish people today would focus on the holiday season, and not on the presents they might get, or posting what they got on social media.
Even companies have materialized Christmas and the holidays. There is special wrapping paper and cute, expensive decorations that draw in the buyer. Although everyone may want their house to be perfectly decorated for social media, is that really what Christmas is about?
Christmas and the holiday season has become a time for others to impress social media users by showing their decorated houses, perfect Christmas tree, and amazing gifts that everyone wants deep down.
While Christmas is now a time of receiving items, it once was a time of receiving love from family.