Marvin Lewis fired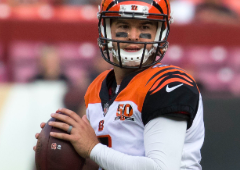 After 16 years of coaching, the Cincinnati Bengals head coach Marvin Lewis was fired from his position. While there were some ups and downs in his coaching term, he still managed to lead his team through rough times.
Before taking over the position of head coach for the Cincinnati Bengals, Lewis was an Assistant Coach of the Steelers, Ravens, and the Redskins. He took over as head coach in 2003 and stepped down from his position this year.
Lewis served the Bengals for 16 years. And although towards the end of his career the Bengals were on a three-year losing streak, he still devoted lots of his time and energy into the team and led them through some of their toughest games.
Some fans, however, are still concerned that even with a coaching change, the team itself will still not improve.
"I do not think that even with a coach change that the team will get better because so many of the players get injured. Even with a new coach, I do not believe that they will get better," said José Wilch, a fan of the Bengals, 9.
But now the question of who will take over Lewis' old position is being raised. There are a lot of coaches in consideration for the position and the fans await the decision.