The taste of Cincinnati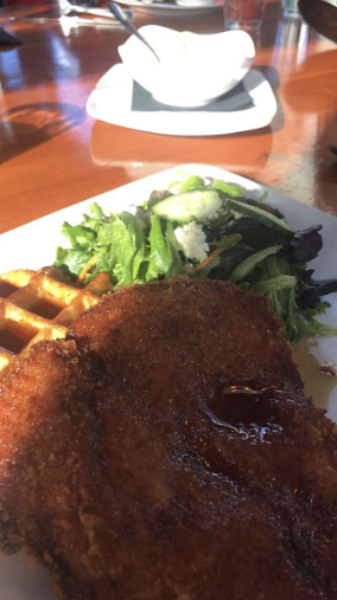 As we are all aware, Cincinnati is known for their brunch and lunch destinations. So, why not give a review for one of Cincy's most popping brunch restaurants: The Taste of Belgium.
The Taste of Belgium has various different locations in the "hip" parts of the city including, OTR, Clifton, Rookwood, The Banks, and Findlay Market.
The closest to SHS would be the Rookwood location, which is about a 20 to 25-minute drive. Even though the drive may be a tad longer than you hoped, the food will totally make up for it.
One of the "favorites" at The Taste of Belgium is their Chicken and Waffles. The Chicken and Waffles are served with Ohio's own maple syrup and hot sauce with a side of fresh greens.  
You are probably thinking it is a bad combination, however, it is by far the best breakfast I have ever had in my life. The waffle is a nice crunchy and sweet as it is topped with maple syrup. The chicken adds the best part to it as it has a tangy taste that complements the chicken superbly.
"The chicken is so juicy and it's fried perfectly. The waffles taste really nice with the chicken," said Ariane Clerc, 12.
I would not only recommend the chicken and waffles, I would 10 out of 10 recommend any of the waffles as  they are all delectable.
Like any great restaurant in the city, comes a wait. I highly recommend going to The Taste of Belgium on a weekday or later in the day on the weekend because you could be easily waiting in a two-hour line. The restaurant does not take reservations on Sunday.
The wait may be long but the service is great. The servers have always made sure we always had everything we needed and kept checking in on us.
Junior Hannah Bruns said, "The Taste of Belgium is by far my favorite brunch place. It's very tasty and a fun atmosphere."
With everything in mind, I rate this restaurant a solid 10 out of 10.