Retail therapy reduces stress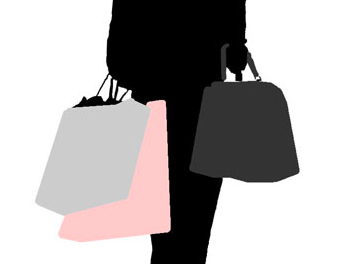 Like any typical high school girl, I love shopping. It could be new clothes, accessories or shoes, but with a satisfying swipe of the credit card, I make my way out with my purchases as if the swipe had also swiped away the day's problems. Now, do not get me wrong. As much as I love getting new items, I have always wondered, is it the purchase making me happy, or is it the experience?
On one hand, I truly believe that it is the experience provoking my enjoyment. Whether it is the soothing process of combing through endless racks of clothing, Browsing through the "too cute" room decor, or admiring the endless sparkly jewelry, shopping trips probably soothe my soul over a relaxing spa day anyday.
Now, did you know, shopping purely for the experience has been proven to have mood-boosting qualities? Most commonly, it can relieve stress and cheer an individual up. According to a survey conducted by the New York Post, "More than two-thirds of people say that shopping has some therapeutic qualities, and seven in 10 admit to having bought themselves something nice simply to cheer themselves up."
So how does it work?
When shopping, studies have proven that it triggers a hormone called oxytocin. When oxytocin is released in females, it promotes feelings of bliss and contentment, thus being dubbed the happy hormone.
Unfortunately, there are a few downsides to retail therapy.
First, like anything, it is best done in moderation. Overdo it and it could give rise to a multitude of problems. Most prominently, excessive retail therapy can cause financial problems, especially when the brain begins to crave the endorphins that are released when shopping. As the same survey from the New York Post revealed, " the average American polled spends a whopping $1,652 per year on purchases just to cheer themselves up."
So thus, as long as the spending is kept in check, some harmless browsing can easily minimize the stress, all while acting as an effective mood booster. After all, "Whoever said laughter was the best medicine obviously never tried shopping."