The Eagle: Review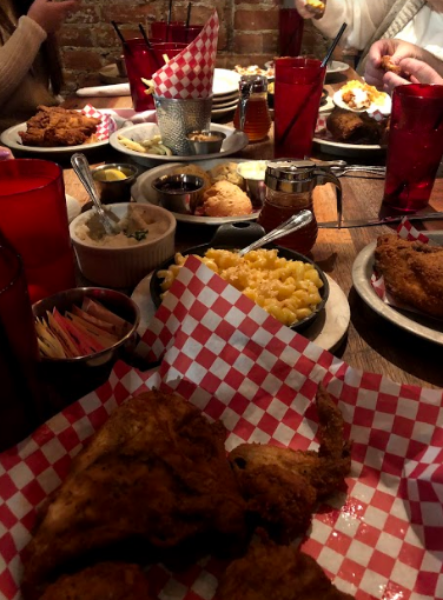 In OTR, we are fortunate to have a lot of options for restaurants to choose from. This week I chose to eat at The Eagle for my birthday with some of my friends and family.
The Eagle is a restaurant with four locations in the tri-state area, they are open for lunch and dinner seven days a week. This is certainly a great option for you if you are on a budget as it is a fairly cheap dinner option.
The atmosphere is a little dark and southern looking with a modern flare. Exposed brick walls and barn decor gives a rural look to the urban location.
I started off my meal with unsweetened iced tea as I browsed the menu.
I ended up choosing a  "½ Fried Chicken", a few deliciously juicy and flavorful pieces of chicken. We got a bunch of sides for the table including french fries, sweet potatoes, corn bread, grits and mac and cheese.
"The customer service is great and the food is delicious. I had a quarter chicken which made for an amazing dinner," said Ally Zimmerman, 11.
There was never a time that I was left wanting something. The server was very attentive.
"The Eagle is a great option for a southern dinner", said Sabrina Ramsey, 11.
I would rate this restaurant a solid 10 out of 10.