I tried a mindfulness app for one week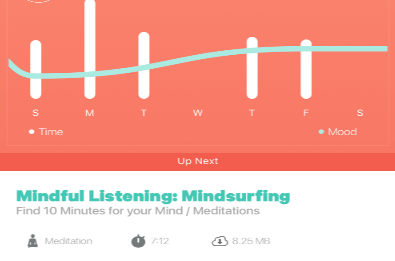 Like most high school students, my life can be stressful sometimes. I have heard for a long time that mindfulness is beneficial for reducing stress, and while I have a little experience doing mindfulness through yoga, I had never tried it on my own.  
I decided to try mindfulness for a week and see if it would help with stress.
I downloaded the app Smiling Mind. This is a free mindfulness app, and it was one of the only apps I found that does not require a subscription or in-app purchases, while also being easy to use.
After you sign up for Smiling Mind, the app asks what you are hoping to get out of your mindfulness practice, such as stress reduction or better sleep, and your age. Then, the app uses this information to create a program of guided meditations and activities to try.
Day 1
On the first day, I was tired before I did the meditation. For my first activity, I tried an eight-minute long meditation called "Body Scan," where you focus on breathing and pay to different parts of your body.
After the meditation, I felt calm and happy, and also more alert. I found that I was able to focus better on my homework afterward.
Day 2
For my second day, I tried a meditation called "Sleep: Starry Night" before I went to bed. This meditation is meant to relax your mind to help you fall asleep easier. It lasted eight minutes.
After the meditation, I felt like there were fewer thoughts in my mind and I was ready to fall asleep.
Day 3
On Day 3, I did a seven-minute meditation called "Exploring the breath." This is not meant to be asleep meditation, however, I tried it right before I went to bed. I had trouble focusing on the guided audio because I was tired and ready to sleep.
This showed me that mindfulness may not always be helpful. In terms of this night, I did not really need anything to help me fall asleep and relax so I could have done without it, however other nights it could be beneficial.
Day 4
For Day 4, I did the "Sleep: Starry Night" meditation again. I found this exercise to be easy to implement into my schedule, and it was a nice way to relax before falling asleep.
Before the meditation, I was not very tired, but afterward, I felt calm and less alert.
Day 5
Day 5 was a stressful day for me.  I tried doing an 11-minute meditation called "Breaths and Sounds." It was very hard to focus on it because I was thinking about the things I needed to do, so I ended up not finishing the meditation.
I realized that while this was a day when mindfulness would have been especially beneficial, it was difficult to focus because I was stressed.
I think it is important to realize that while mindfulness can be helpful on stressful days, it is okay if you cannot get into the right mindset to do it.
Day 6
For my sixth day of mindfulness,  I did the "Body Scan" meditation again. This meditation really helped me anytime I needed a break from doing homework and helped me focus better.
Day 7
For my last day, I decided to try something different and do an activity called "Mindful Eating." This exercise requires a piece of fruit or chocolate.
The app guides you in paying attention to how the food tastes and smells. It was interesting to focus all of my attention on something I would not usually give much thought to.
Thoughts
Overall, during my week of mindfulness I noticed that even though I only meditated ten or fewer minutes per day, it helped me focus better, fall asleep easier, and be more relaxed.
I learned that anyone can do mindfulness and you do not have to be able to push all of your unrelated thoughts out of your brain to benefit from the practice. I am planning to continue to use Smiling Mind regularly.