Quan Hapa review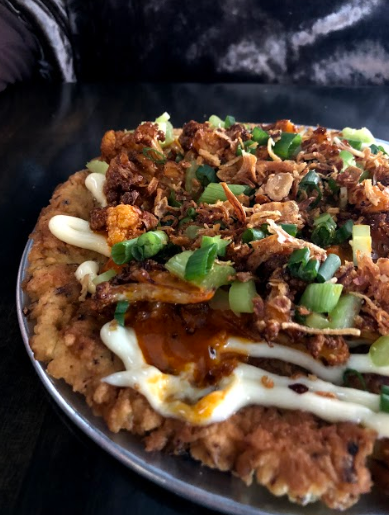 In Cincinnati, we are fortunate to have a lot of great options when it comes to ethnic foods. This week I chose to eat at Quan Hapa with my friend who is a junior, Meredith Darrah, at a restaurant in Over the Rhine that serves Asian street food.
It is not a huge restaurant and OTR tends to be busy so expect a wait, but the wait is most certainly worth it.
Junior Ally Zimmerman, who has eaten at the restaurant in the past said, "I had trouble finding food to eat as I am a picky eater."
As I browsed the menu for my dinner, I sipped on a glass of iced tea. I ended up choosing the Chicken Katsu bowl. It was a deliciously complex bowl with lots of different flavors circulating in my mouth.
The bowl included fried chicken, rice, sauteed spicy cabbage as well as some sauces.
"It was very difficult deciding what to order but I ended up getting the Cauliflower Okonomiyaki," Darrah said.
Okonomiyaki is a Japanese pancake and the one Meredith chose came with Japanese mayo, fried onions, fried cauliflower, celery, honey sriracha, and green onions piled high.
Overall I would rate the restaurant a 7 out of 10.