A Tavola review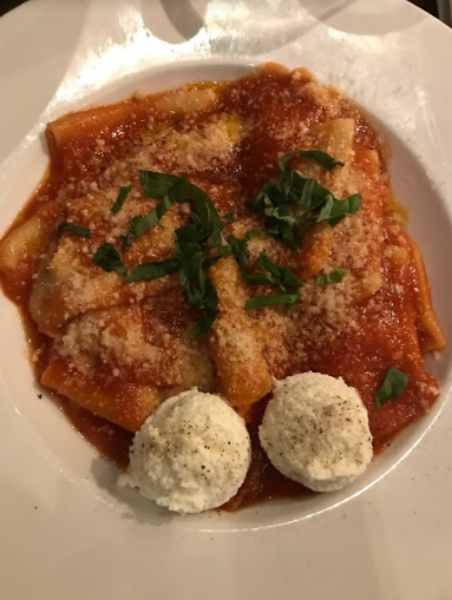 Pizza and Pasta and Gelato OH MY. Cincinnati has many great Italian restaurants, so why not give a review on a local Italian restaurant… A Tavola.
A Tavola has two different locations in downtown Madeira and Over The Rhine (OTR). The closest to SHS would be the Madeira location, which is about a 15-minute drive. This is a perfect destination for a nice family dinner or a date for Valentines Day.
A Tavola is known for their thin crust Neapolitan baked in a wood-burning oven. They have a variety of choices to choose from such as a basic Margarita or a more sophisticated Fig and Prosciutto pizza.
"The Margarita Pizza is delicious. The pizza was so good that I just kept taking more and I couldn't stop. A Tavola is so much better than your regular fast food pizzerias," said Cy Khodadad, 9.
Not only is A Tavola known for great pizzas, they are also known for their housemade pastas. Personally, I love the Paccheri with Tomato and Ricotta. The Pasta is cooked al dente and the cheese accents the pasta very well.
A Tavola is a very unique restaurant, they own a gelateria next door to their Madeira location. All of the ingredients are shipped in from Italy. The gelato caps off the restaurant and makes you feel that you are in Italy.  
Like any great restaurant in the city, comes a wait. I highly recommend going to A Tavola on the weeknights or earlier in the evenings on weekends. If not you can find yourself in a very long wait because the restaurant does not take reservations.
The wait may be long but the service is great. The servers always make sure we have everything we need and they continued to check in on us.
Junior Carly Sandow said, "A Tavola is by far my favorite pizzeria. The gelato store next door makes the restaurant even better. It's very tasty and a fun atmosphere."
With everything in mind, I rate this restaurant a solid 10 out of 10.