Aves Ablaze heads to state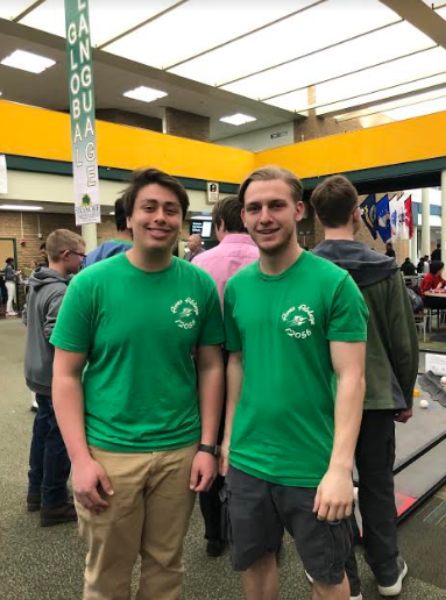 The Aves Ablaze Robotics Team is advancing to the state tournament. On Feb. 23, Aves Ablaze, as well as 35 other teams, will be competing in a tournament at Loveland High School. Based on the results of this competition, six teams from Ohio will advance to the First Tech Challenge World Championship in Detroit, Michigan.
The Aves Ablaze Robotics Team was co-founded in 2016 by Adam Pelberg and Nick McDonough. The two are seniors now and have put in a ton of hard work and dedication to the program. They are participating through the FIRST Tech Challenge (for Inspiration and Recognition of Science and Technology) organization which enables teens from grades 7-12 to participate in alliance format competition where they build robots about the size of a microwave and document their engineering process.
"I'm really excited about States tomorrow. Our robot has made great strides just in the last few weeks, and we are right up there with the top competitors. With 36 teams competing and only 6 advancement spots to the World Championships, it's certainly going to be tough, but I can't imagine a more capable and driven team to get the job done," Pelberg said.
Pelberg's mother, Mrs. Wendy Pelberg, is the Aves Ablaze mentor. It was noted in a press release that Mrs. Pelberg has been instrumental in helping the team to succeed since their humble beginning, three years ago and received the Compass Award for her outstanding mentorship.
"We are so excited and proud. Everyone has worked so hard and it's paid off. They have persevered through some tough competitions against top competitors and have come out as winners," Mrs. Pelberg said.  
According to the Sycamore Robotics Website, they have won a total of five awards. They include: Newcomers Award (2017), Judges Award (2017), Motivate Award (2018), Think Award (2018), and Finalist for Design and Innovate Award (2018).
In addition to creating the Robotics Club, Pelberg and McDonough the boys have gone full circle. In elementary school, they participated in the Lego League at Blue Ash Elementary. For more information about Aves Ablaze please visit their website.
Sources: