One from 95,000
Kling takes home Coca-Cola Scholarship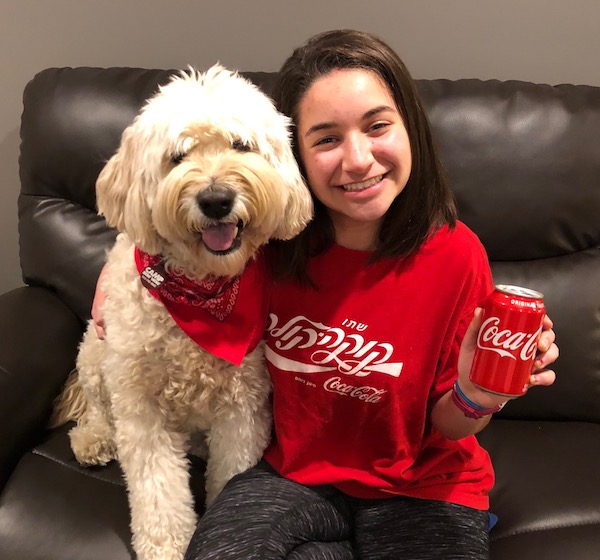 Captian of Cross Country. President of her youth group. In theater, improv, and costume crew. Assistant teacher at her Sunday school. The list goes on, but on Tues., Feb. 26, Coca-Cola Scholar was added to the list.
This scholarship that began with 95,715 student applicants and only claimed 150 winners, one of which was SHS senior Shayna Kling.  
"I wanted to succeed for myself but also for the people who believed in me," Kling said.
Everything began with an application: transcript, test scores, activities, and the like. Next was the semi-finalist round where the 2,000 students left in the competition submitted multiple essays.
"Questions were like…what's a community that is important to you and so I talked about cross country, and then in some of the other questions about theater, how I like to travel, how I speak Spanish, how I'm Jewish," Kling said. "I just encompassed all those aspects [of me] in the essays."
The regional finalist round meant Skyping with three past Coca-Cola Scholars, where Kling "shared my life story and all the things I do."
"Something that was hard was the debate of what I wanted to share about myself with the committee that I thought would put me ahead and help me stand out amid so many other people," Kling said. "So many of the questions I was like oh should I be funny here and make them laugh or say a classic thing about sports, or my life, or whatever so I tried to do both."
Another difficulty college and scholarship applicants can empathize with was the anxiety of waiting.
"I was looking at my email I was like ok she would email me if she found out…When she came in and said she got it, I was very excited. As a counselor, it is so rewarding to see a student reap the benefits of the hard work you put in," said Ms. Rose Mitchell, SHS counselor.
Mitchell is Kling's counselor and was along for the stress of waiting at every round mark. In her 22 years of counseling, she has never seen a student win the Coca-Cola Scholarship before now.
The Coca-Cola Scholarship awards 150 exceptional students yearly with a $20,000 scholarship to use for college and a weekend in Atlanta, Georgia from April 4-7 to network with other scholars.
The Coca-Cola Scholar's Foundation has awarded $70,000,000 in scholarships since 1989, according to its website. The top five colleges these scholars go on to are Harvard, Stanford, Duke, Yale, and Princeton.
"A lot of what [Coca-Cola] stands for is giving back to the community, which is why they have this program, to give back to students to continue their education, and hopefully, they'll continue impacting the community as they grow older through the scholar's network," Kling said.
Kling certainly exemplifies what Coca-Cola stands for. Giving back at every available moment, Kling volunteers at Cedar Village, helps at Operation Give Back's holiday drive as a translator, serves in her Jewish community, and more.
"It's really cool that the culmination of all these hours of work and the tears and laughs and memories has kinda paid off and all the time I spent on essays for college and scholarships was worth something," Kling said.
Yet, Kling manages to stay humble through everything.
"She is grateful for every opportunity… She knows that she has put the hard work in but she also knows that she is very fortunate and grateful to be in the position she is," Mitchell said.
Next Kling will be flown down to Atlanta for the scholar's weekend to network and get to know her fellow scholars.