Melville's epic adventure entices readers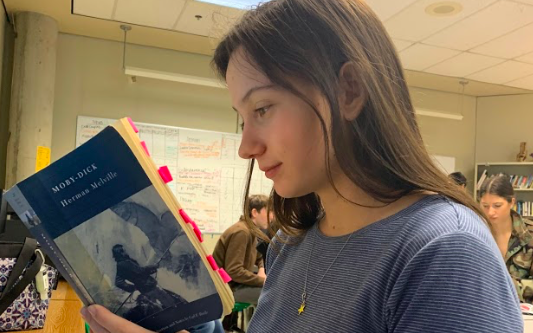 The Pequod overflowed with both life and death. Harpooners aboard rejoiced the arduous hunt that followed the beasts of the sea throughout Southern waters—that is the whale.
No, this description is not a summary of a "Pirates of the Caribbean" movie but a glimpse into the nautical world imagined by Herman Melville in his iconic classic, "Moby Dick."
While "Moby Dick" now holds its own in the coveted world of classics, it was far from popular when it first came out, only selling 3,000 copies during his lifetime. But the modern world, at last, began to appreciate the stormy allegorical sea that envelops the story in the 1920s.
Racking in at almost 600 pages, the novel scares off many potential readers, but after finishing this lengthy novel, I can assure every bookworm that it only gets better as one reads on.
To give a brief (spoiler-free) summary, "Moby Dick" follows the life of the protagonist Ishmael and his cannibal friend Queequeg aboard the Pequod, which is manned by the broody and troubled Captain Ahab.
Captain Ahab lost his leg to the notoriously vicious sperm whale Moby Dick and propels the crew of the Pequod to back his thirst for vengeance.
The tale itself can be interpreted in a number of ways. The conflict between man and nature was a theme deeply explored by Melville, who was former sailor and harpooner himself.
Page 179 reads "For we are all killers, on land and on sea; Bonapartes and Sharks included." The beauty of the book resounds in this eloquent statement. Who is in the right? Should man conquer the beast because it is in his nature? Or should the beast claim the man, as it is also in his nature? Both kill, but it is up the reader to decide who is in the right and who is in the wrong.
Yes, the book is long, and yes, there are several chapters where Melville decides to provide a not-so-brief history of whaling, but the story offers much for the reader to ponder, about life and men themselves.
As a lover of classics, it was easy to be drawn in. However, even casual readers will find themselves falling for Ishmael's witty humor and for Queequeg's innocent demeanor. Everyone can relate to stormy Ahab, who only yearns to feel whole again.
Moby Dick is a treasured classic for a reason. The mysterious allure of the ocean and what it signifies will inevitably drown the reader, in the best possible way.
---
Source: