Cincinnati Children's Museum's Revisions Overview Cincinnati Children's Museum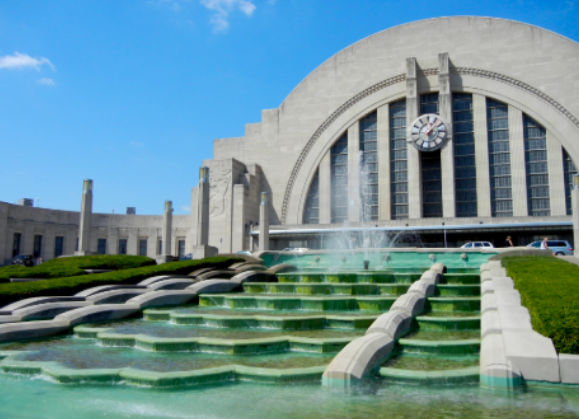 Due to its old age, Cincinnati Children's Museum (CCM) had been renovated for the past two years, starting in July 2016 and finishing in November of 2018. The revamping had been planned for years, and now people can witness these vast improvements for themselves.
"As it was such an influential part of my childhood and many others, I think it's great that they're allowing the younger generations to relive the same experiences we had. Even though technology is at a point where half of our education is filtered through it, there's just no way you can replace good old interactivity and physical experience," said Benj Kotzin, 9.
You begin to notice the improvements before you even walk into the museum. The iconic fountain has been revamped. The new fountain resembles the overall structure and design of the previous fountain, but the cement structure and stone padding have been cleaned and polished, giving off a more glowing and smooth look while also redoing the piping and water flow.
The CCM team wanted visitors to experience the changes as soon as they walk in by revising the famous American history mural in the main entrance. As it is such an iconic part of the museum, extra time was taken to polish the images. It was blocked off for nearly five months but is now ready for viewing.
The downstairs level has had many new features added to it as well, such as a new slide and other recreational playsets to the jungle exhibits.
A new interactive dentistry exhibit was also added, using motion-sensitive UV lighting as a means to blend the digital and physical world.
More recently, the CCM has made its long-awaited switch from film in the Omnimax theater to digital Imax, producing higher quality imagery. Along with upgraded sound and light systems, the intention is for a more immersive and pleasing viewing experience.
Even though everything now added to the new CCM plays a supporting role in entertaining and teaching of children, the real reason CCM got their $208,212,000 upgrade was for the fixing of their water systems.
According to an article on the Journal-News website, "The current restoration of Union Terminal is the first full structural restoration in its 84-year history.  Eight decades of water penetration have taken its toll on the building, seeping through exterior masonry."
Though it is a bit late to be reporting on the situation, CCM is still a great place to visit or revisit, cementing itself in our childhood memories and memories to come.