Raising puppies
   Most people have to agree that puppies are adorable balls of fluffy energy. While the majority of dog owners have to wait until puppies are eight weeks old to take them home. However, in the DeBrosse household, the family raises young dogs from day one. 
   When the DeBrosses got a new dog a few years ago, they made sure she fit the breeding requirements so they had the option of raising dogs later. When their dog, Bella, turned two, Victoria DeBrosse, 9, and her family decided to move forward with raising a litter of puppies. 
   Don't worry—they were not going in cold. Her mom used to raise puppies as a child. Also, when Victoria was 10, her family raised a different litter of puppies in their garage. 
   Once the DeBrosses decided they wanted to raise puppies, they needed to find a dog to breed with. "So the decision was either between Goldendoodles or Golden Retrievers." The final verdict was Goldendoodles. That meant they needed a poodle companion. Just finding a poodle was not enough. Bella had to approve too. If she approves, then she flags them by doing "stuff with [her] tail," said DeBrosse. "And immediately when she met him, she flagged him, which is super cute. We're like 'Oh, I think we found him.'"
   A few months later, nine puppies were sleeping in a homemade pen in their living room. This can cause some challenges in day to day life. "It's a little challenging because they are such adorable little things that they're distracting… it takes more discipline to be like 'nope not gonna go to the puppies,'" said DeBrosse. 
   The puppies also act as a people magnet, meaning that there are a lot more people coming to their house to see them. The last time they raised a litter, the puppies were automatic entertainment. "People would have a whole birthday party [here]—there was more than one," said DeBrosse. They are doing things differently this time around. You have to schedule an appointment to ensure things aren't as chaotic. So this means that you might need to change venues for your next puppy party. 
   Aside from birthday parties, people come to see if one of the young pups could become their new pet.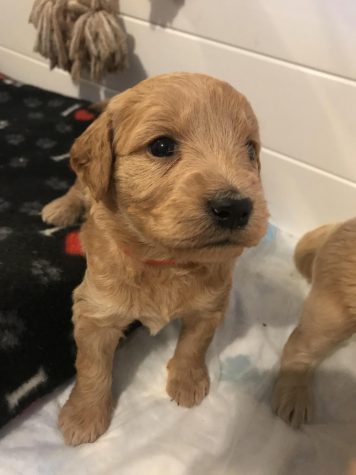 According to The Puppy Place, 1.44 percent of households in the United States have a dog, which totals to around 78 million dogs. DeBrosse adds 9 more puppies to that number.
   When the puppies turn eight weeks old, it becomes time to give the puppies to their new owners. "It's sad to see the puppies go—it really is. But you know they're going to a good family," said DeBrosse. For some puppies that would be the last time she saw them. However, for some that was not the end. 
   "A month, maybe, after we let the puppies go, you'd be like, 'Hey everybody. If you want to bring your puppies over to the house so they can see mom again, see their siblings again, you can,'" said DeBrosse. "That's something to ease the effect. And then eventually it goes away."
   The eight weeks spent raising the puppies are filled with messes and lots of discipline to get them ready to go. DeBrosse described raising these "nine balls of energy" as worth it. DeBrosse said, "They bite everything, they tear everything, but they also love, so hey it's okay."
Sources: