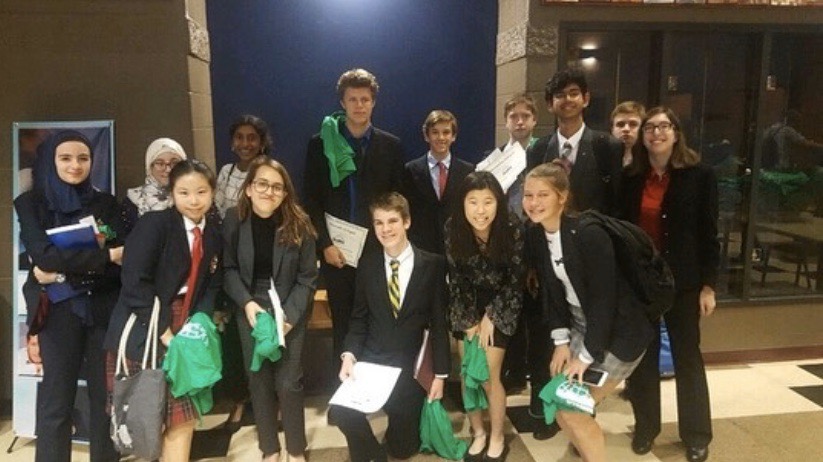 My first Model UN experience
From the perspective of a freshman
November 12, 2019
   20 people all staring at you, all waiting for their chance to speak, your voice barely coming out as a squeak. As daunting as it seems, experiences like these are what make you better and build you up as a person. 
   At first glance, Model United Nations (MUN) may just seem like any other club. But after my first conference, I found that it was so much more. Learning how to be better at public speaking, overcoming the fear of speaking to strangers, and applying MUN scenarios to real-life lessons are just a few of the skills I gained through this experience.
Last Saturday, fellow sycamore students and I went to a MUN competition called WYOMUN, since it was held at Wyoming High school. For some competitors, it is already their tenth competition; for others, it is their first. WYOMUN is a good place for both experienced and inexperienced students to learn more about current events and to practice negotiating to find the best solution to a series of problems.
Reading till now, you might ask, what is MUN? MUN is an educational simulation where students learn about the relations between different countries and delegates We get to compare and contrast different countries' ideologies and policies and learn to reach a solution that is beneficial for all the countries involved.
The competition starts with students being placed in a committee, which is made up of 15-20 people in WYOMUN. Each person represents either a country or a historical figure. Each committee is centralized around a topic. From the World Health Organization to communism, topics can vary across multiple countries and groups. The topic I received was about the Alien and Sedition Acts, which is about the first amendment and a fight between the Federal Party and the Democratic-republican Party.
Upon entering the conference room, we had to persevere to achieve their ultimate goal, which is to abolish the Alien and Sedition Acts. I represented Andrew Jackson, who at that time was a Senator, and would later become the 7th President of the United States. 
Before the competition started, I was really nervous as I have never done MUN before. I was surrounded by juniors and seniors that have been doing MUN since 7th or 8th grade. Even though I was well prepared and knew the character of Andrew Jackson well, I felt like they knew so much more than me and all had so many ideas that were better than mine.
During the first committee session, I spoke once or twice. But as time passed, I began to overcome my fear. I started presenting more and more of my ideas to the other students. It felt good being able to contribute to achieving our goal. At the end of the day, we were able to abolish the Alien and Sedition Acts.
Even though I did not receive any awards, I learned so many valuable things that mean so much more to me than a piece of paper. Through this experience, I met so many amazing people, that helped me so much during the competition. For example, the girl who sat next to me, Tierney, encouraged me to speak up about my ideas and guided me through this competition. She explained unfamiliar terms to me, taught me how to write crisis notes (to pass a resolution), and approved of my ideas.
Overall, this competition helped me discover a new hobby. WYOMUN showed me both how fun MUN can be and how educational MUN is. I am looking forward to future competitions to learn more and more about both MUN and current issues!