"Miss Americana": a review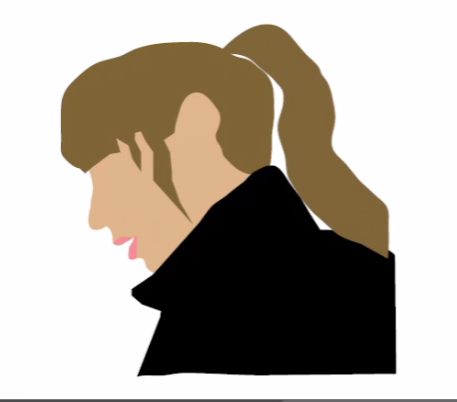 Honest. Revealing. Raw. These words have all been used to describe "Miss Americana," the new documentary about pop star Taylor Swift. Directed by Lana Wilson, the film premiered on Jan. 23 at the Sundance Film Festival before its release on Netflix on Jan. 31. 
   To many, it may seem like Swift—a ten-time Grammy winner who was recently named "Artist of the Decade" at the American Music Awards— lives a perfect life. But in "Miss Americana," Wilson shows viewers a new side of the star, putting a spotlight on the struggles the singer has faced since rising to fame at the age of 16. 
   In "Miss Americana," Swift goes deep into the "behind the scenes" aspects of her life and her fame that we don't usually get to see. She discusses her struggles with an eating disorder, the effect of negative press, and how she broke into the discussion of politics, among many things. 
   "I see the movie as looking at the flip side of being America's sweetheart," Wilson said to Variety.
   One of the most impactful scenes of the film for me was the intense moment in which Swift, arguing with her team, explained why she could not keep her political silence any longer. For years, the artist refrained from speaking about her political beliefs, notably staying silent during the 2016 presidential election. In the documentary, she explained that she wanted to preserve her "good girl" persona. However,  in November 2018, she posted on Instagram speaking out against Tennessee candidate Marsha Blackburn and supporting two Democratic congressional candidates. 
   Swift explained how she was partly inspired to finally display her political beliefs after she won her sexual assault trial, against a DJ who groped her.
   "I couldn't really stop thinking about it. And I just thought to myself, next time there is any opportunity to change anything, you had better know what you stand for and what you wanna say," Swift said in the documentary.
   There are also lighthearted moments in the film, like when the singer says that her "party shoes" are necessary for vocals, carries one of her cats around in a special cat backpack, and when she revealed that she didn't try a burrito until her late 20s.
   Whether you are a longtime Swiftie or not a big fan of the star, "Miss Americana" is a must-watch for anyone. It is an honest depiction of the effects of fame and breaking a stereotype.