Local sewing community pays it forward
How sewers in the tristate area are helping amid Covid 19 crisis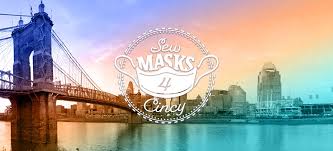 Growing up, we've read about history, learned about history, and now? We're living through history. As the Coronavirus pandemic spreads, it seems as if we as students can't do anything to help…well, of course, other than staying at home and practicing social distancing.
   But a few Sycamore fashion students didn't let this deter them. Just a few weeks after designing for the 2020 Fashion for the Cure fashion show, they've got an even greater sewing project on their hands now: sewing masks for those in need. For senior Asalya Samieva, she was first inspired when she saw celebrity designer Christian Siriano with his crew sewing masks for the New York City government.
   "During these hard times, I first felt like I couldn't do anything to help out… until I learned of Christian Siriano's story. For the first time, I felt like I could use my sewing skills to make more than just clothes. In my opinion, sewing these masks is the best way to spend my spare time right now," said Samieva. 
   Likewise, sophomore Megumi Cipollene said she got involved "because I wanted to feel like I was doing something to help the doctors and nurses putting their lives at risk on the front lines every day. The process of making masks was tricky at first, but I'm really grateful to have both the skills and materials that make it possible for me to contribute from home."
   As for junior Victoria Schwegmann, this is a cause that hits close to home; not only is her dad a surgeon but much of her extended family is in the medical field. With the constant exposure in hospitals, they are the most at risk, so she began making homemade masks in hopes of protecting them.
   Most importantly for her, she said she's "trying to pitch into this cause in any way that can help. I just want people to be saved and know they are cared about."
   And it's not just students who are helping. In the past few weeks, a local Cincinnati organization "Sew Masks 4 Cincy" has gained momentum with a similar purpose to these SHS students. 
   Upon speaking with the founder, Esther Kang, she was first inspired to start this group after coming across a CDC guideline that recommended to use bandanas as a last resort if there were no face masks available. 
   "After seeing this post, I reached out to a local friend who is currently working as a nurse and asked if she would be interested in some homemade masks. Though she said no at first, she called me back the following day and expressed great interest in getting homemade masks," said Kang.
   "At the time, she said that they were running short on face masks and having homemade masks would be better than nothing."
   Upon receiving this message, Kang took initiative and began the "Sew Masks 4 Cincy" Facebook group. According to Kang, it truly is a community effort. While there are nine women working alongside her behind the scenes, they now have about 5,500 volunteers helping the cause.
   Their mission? 
   "To support, protect and make mask covers for our local Cincinnati frontline workers by donating time, resources, and skills."
   In fact, these homemade masks are helping more than just the doctors on the front lines.
   "When we use our monetary donations to buy supplies and materials for the masks, we prioritize buying from local small businesses in an effort to support our local economy during this tough time," said Kang.
  Furthermore, as a retired teacher, Kang knows how tough this time can be on students and wants to help them too. Through "Sew Masks 4 Cincy," she hopes to help improve the situation quickly so that students, and everyone alike, can resume normalcy as soon as possible.
If you're interested in getting involved, check out Sew Masks 4 Cincy's website and Facebook.