Stuck at home…far from home
Gordon family's experience stranded in Peru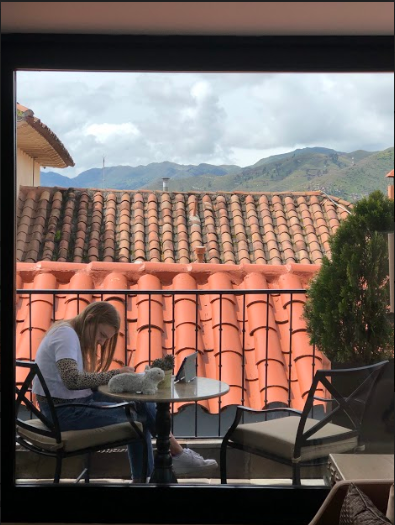 People around the world have been lamenting long days stuck at home as a result of the COVID-19 crisis. But imagine being quarantined in an unfamiliar place, far from home. That is the situation thousands of Americans have found themselves in, including SHS English teacher Mrs. Johanna Gordon, sophomore Chloe Gordon, and their family. Due to tightened travel restrictions, many Americans have become stranded in foreign countries.   
   After the Gordon family had to cancel their trip to China due to the coronavirus, they looked for other travel options and saw that at the time, there were no COVID-19 cases in South America. Gordon said that on the day her family left for Peru, there were only around five cases in the country. However, on March 15, two days after their arrival, Peruvian president Martín Vizcarra decided to close the borders. 
   Everyone traveling in Peru was given less than 24 hours to leave the country, meaning that over 5,000 Americans, including the Gordons, remained stranded. Since they would not be able to get a flight out by the end of the day, the family decided to go to Cusco, which they believed would be less chaotic than Lima, and were able to stay in "very nice accomodations" at a hotel.
   "I think their president did the right thing, trying to close borders before there could be a large influx of people in and out. However, I think just giving most people less than 24 hours, I mean, that was a challenge for everyone…," Gordon said.
   During the first week of the quarantine, only one person could leave the hotel at time, for essential purposes such as going to the grocery store, bank, or pharmacy. Those stranded were allowed to move around in the hotel and walk in the courtyard, and ate meals in a common room where everyone sat six feet apart. 
   However, in the last few days the family was stuck, a COVID-19 case was found in a hostel, so the government placed even stricter regulations on people staying in hotels. Gordon said they were not allowed to leave their room unless it was absolutely necessary, but the hotel provided them with everything that they needed.
   In order to deal with the difficult situation, Gordon said her family tried to stay "as positive as we could be," having nightly Jeopardy watch parties and Facetiming with friends. "I think we drove each other up the wall at times, but I think we've all become closer too," she said. 
   One positive of the situation, Gordon noted, was the hotel staff. "The staff at our hotel were so kind, so generous…they wrote us a note, and it just really reinforces how much more alike than we are different. And it's times like these that really bring that out. So I am forever grateful to the…staff at the Marriott," she said.
   Another positive aspect was meeting others in the same situation. "…My family and I met many other people from the hotel from many different places around the world.  I even met someone my age and it was really fun just to talk about how different our lives are from each other. At the end of the day we were really thankful to have food and a roof over our heads," said Chloe Gordon, 10.
   Fortunately, the family was able to fly to Miami on March 26 and returned home on March 27, after spending ten days quarantined in their hotel. However, she noted, "we were definitely fortunate," as there are still many waiting to get out.  According to Forbes, the State Department has repatriated over 18,000 Americans from countries around the world, however, around 30,000 remain stranded abroad.
   Gordon said the best thing to do to help those who are still stuck is to "keep contacting Senators, Congresspeople, the State Department, until everyone gets home. There's just so many more people left…so just to kind of keep everyone aware that there are people there that want to get out, that need to get out…just keep it in the news."