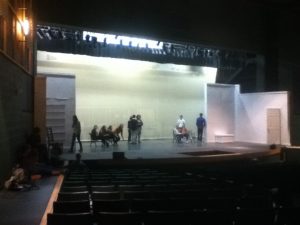 With the opening of "The Drowsy Chaperone" a mere two weeks away, the Aves Theatre program had no time to waste. While most students were enjoying a five-day weekend, the cast and crew spent two of those days in nine-hour rehearsals.
These "tech days" are mandatory to each Aves Theatre show. The long hours are placed for the purpose of doing the behind-the-scenes work: set-building, painting, lighting, working with a live orchestra, the nuances of stage spacing, and other important jobs.
"The first tech day is always a sign: the show is in full motion and we have to kick up our game. After that first day, the show starts to pull together, and the 'theater magic' happens," said Alexander Montchai, 10.
Nine hours may sound like a long time, but the full day is normally spaced out in certain time intervals for the tasks that need to be completed, including an hour for going out to lunch.
Story continues below advertisement
"This first tech day was fun for me because I have a lot of friends in the cast. I enjoyed building the set because now I can claim some of the set pieces as my work.
"It was not really tiring during the rehearsal- I was only tired when I realized we had just worked for nine hours," said Corinne Gause, 10.
Despite a delay in the first run with the orchestra due to a snow day, the production process is moving along well, according to Mr. Whapham, Dean of Students and Aves Theatre director.
"This show is a fantastic fit for the group of people we have. Especially in this case, I love it when a plan comes together," said Whapham.
"The Drowsy Chaperone" will be performed Jan. 30, 31, and Feb. 1 at 7:30 pm, and on Feb. 2 at 1:00 pm. Tickets are on sale online on the Aves Theatre website or at school during lunch Jan. 27-31.