It's not too late!
Scholarships you can still apply for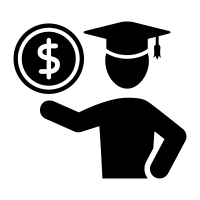 As hard as it may be to believe, it is already March, and that means seniors are about two months away from May 1—college decision day. Many of us may have been slacking off when it comes to finding scholarships to apply for. But with a whole week of freedom coming up, spring break is the perfect time to look into some of the opportunities you have been missing. Even underclassmen can begin saving up for the expensive cost of college, as some scholarships are open to those as young as 13 years old. From the writing about the zombie apocalypse to spending five minutes on a quick form, there are options for every student.
Niche $2,000 "No Essay" College Scholarship
Deadline (for this month's entry): March 31,2021
Amount: $2,000
   Any high school or college student can apply for this scholarship. The website requires you to make an account and fill out some basic information. You will then have the opportunity to enter into a random drawing. A new winner will be chosen every month, and you can reapply each time.
Unigo Zombie Apocalypse Scholarship
Deadline: Oct.31, 2021
Amount: $2,000
   You probably never thought you would hear "zombie apocalypse" and "scholarship" in the same sentence, and yet, this is a completely legitimate opportunity to earn money. If you have ever thought about exactly what you would do in the unthinkable situation of a zombie apocalypse, then this scholarship is for you. It is available to any student 14 years or older.
   The application requires an online written response of 250 words or less to this prompt: "Imagine that your high school or college has been overrun with zombies. Your math professor, the cafeteria ladies, and even your best friend have all joined the walking dead. Flesh out a plan to avoid the zombies, including where you'd hide and the top-five things you'd bring to stay alive."
Raise.Me micro-scholarship program
Deadline: any time
Amount: Varies
   Raise.Me is a website that allows students, beginning in 9th grade, to earn micro-scholarships from over 330 eligible universities.Students can submit their courses, grades, activities, and other achievements on their portfolio, and earn money from schools they follow on the platform, the sum of which will be awarded as part of the financial award from the college they choose to attend. To sum it up, Raise.Me gives you scholarships for everything you already do in high school. What easier way is there to earn money than that?
Unigo Make Me Laugh Scholarship
Deadline: August 31, 2021
Amount: $1,500
   When you think about scholarships, a serious, English-class type essay is usually what comes to mind. However, this scholarship is the opposite, giving students the opportunity to earn money simply by showing off their sense of humor. To be eligible for this scholarship, students must be at least 13 years old and plan to enroll in an institution of postsecondary education no later than fall 2027. 
   To apply, students must submit an essay of 250 words or less responding to the prompt: ""OMG… finding and applying for scholarships is serious business, but it's time to lighten things up a little. We don't want to know why you deserve $1,500 or how great your grades are, we simply want to LOL. Describe an incident in your life, funny or embarrassing (fact or fiction), and make us laugh!"
   This is just a fraction of the scholarship options that are available. The SHS counseling website is a great resource for all students. There, you will find a spreadsheet that is updated frequently with any scholarships the counseling department is aware of. Now, go earn some money!