Opening Day
The top contenders of this year's MLB season.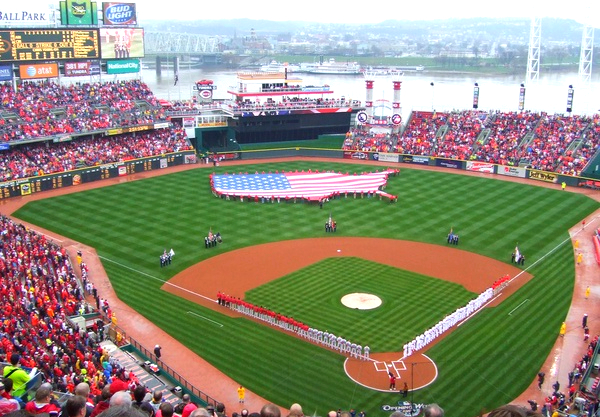 As the Major League Baseball season gets underway, the hope is that this year will bring much more normalcy after having to settle for a 60 game regular season last year due to COVID-19. While Major League Baseball is planning on having a 162 game season, the cancellation or postponement of games due to COVID-19 is still very much in play. While it is very exciting to have baseball back in action, there is a high possibility of some bumps in the road. 
Your Cincinnati Reds
   After a wild card exit last season, the Reds look to go right back into the playoff mix and improve from last year. While the Reds lost stud pitcher Trever Bauer and reliever Rasiel Iglesias, this team is still a serious contender to win the division. Having the best pitching duo in the division with Luis Castillo and Sonny Gray is a huge help. The biggest news for the hitting side of the ball is the Reds' top prospects in Jonathan India. India was the Reds first-round draft pick back in 2018 and is finally getting the chance to play in the big leagues. Reports are that he will be the new starting second baseman, which then moves Mike Moustakas to third base and shifts Eugenio Suarez to shortstop. India possesses power and speed, something fans should be excited about when watching him play. Overall, expect to see many familiar faces around the diamond and a division that's up for grabs.
Top Contenders: 
Dodgers
   Arguably the most loaded roster in baseball, this team is a force to be reckoned with. Having one of the best pitching rotations in baseball in Clayton Kershaw, Walker Buehler, and newly acquired Trevor Baurer, opposing teams will be frustrated with them on the mound. Also processing a great hitting lineup featuring Mookie Betts, Cody Bellinger, Corey Seager, and Justin Turner, opposing teams will need to be on their A-game when facing this team. Last year the Dodgers led the league in runs, home runs, and were second in the league in runs batted in. You should expect to see this team be at or next to the top in all these categories again this year.
Padres 
   From being an afterthought to being serious contenders, the Padres are for real and have great hitting and pitching. This offseason, they have acquired tons of pitching talent in Yu Darvish, formerly of the Cubs, Blake Snell, formerly of the Rays, and Joe Musgrove, formerly of the Pirates. On the hitting side, they have one of the youngest peripheral players in the game today in 22-year-old shortstop Fernando Tatis Jr. In the shortened season, he hit 17 home runs to go along with 11 stolen bases and crossed the plate 50 times. Playing right next to Tatis Jr is third baseman, Manny Machado. An all-star at the plate and in the infield, Machado was a big part of his team's success last year and will continue in that role this season. While this team has lots of new pieces around it, they have all the talent in the world at their disposal and look to put it all together and shoot to be World Series Champs.
Yankees
   Looking at the Yankees, they possess so much power. With hitters like Giancarlo Stanton, Aaron Judge, Luke Voit, Gleybar Torres, and much more, they are definitely a special group of guys to have. Pitchers have to be aware that one mistake can easily lead to a home run when facing this team. Coming off a season where they were top five in home runs, runs, and runs batted in, they have the potential to be at the top of all these categories. On the pitching side of the ball, they have one of the best pitchers in baseball, if not the best, in Gerrit Cole. Cole had a 2.84 era to go along with 7 wins and 94 strikeouts in the shortened season. While the starting rotation isn't up to par with the Dodgers or Padres, the Yankees have one of the best bullpens in baseball. While the Yankees are top contenders, some of their big stars have injury histories, and staying healthy will be the key to how far they can go. 
https://www.espn.com/mlb/stats/team/_/table/batting/sort/runs/dir/desc