From Coats to Corsets
Billie Eilish's stunning new look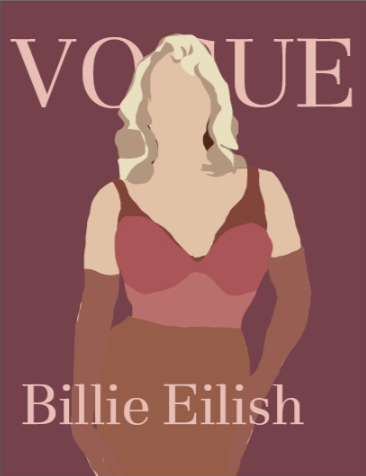 On the cover of the June 2021 issue of British Vogue is Billie Eilish, but not wearing what people have come to expect. Instead of baggy sweats and oversized jackets, Eilish channels the "classic, old-timey pin-up" look. Instead of bright green hair, she's blonde. A different aesthetic, sure, but the same Eilish who is all about promoting body positivity and empowerment. 
   From the beginning, Eilish challenged the norms of the music industry, both in her sound and in her look. People loved the change she brought to pop. Eilish holds the title of the youngest artist to receive a Grammy for Album of the Year. Her debut album is Spotify's eighth most-streamed album ever. Her style of music really resonated with the world.
   As for her look: She felt more comfortable in loose-fitting clothes so she wore loose-fitting clothes. People then deemed her a "good example" when compared to other female artists who wore less clothes or tighter fits, which Eilish denounced (though not many stopped). 
   In the Vogue interview, she said she was ready for a change. She knew corsets would rile people. "Suddenly you're a hypocrite if you want to show your skin, and you're easy and you're a slut…Let's turn it around and be empowered in that. Showing your body and showing your skin – or not – should not take any respect away from you," Eilish told Vogue. 
   Eilish predicted reactions people would have to the shoot, answering the questions before they were asked. "'If you're about body positivity, why would you wear a corset? Why wouldn't you show your actual body?' My thing is that I can do whatever I want," she tells Vogue. "It's all about what makes you feel good…if you feel like you look good, you look good."
   "I think it's awesome how she's been a body positivity advocate for girls always, because she'd wear baggy clothes to prove that you don't have to wear showy small clothes to be successful in the music industry. And then, when she posted in these different outfits and her new aesthetic, it was a power move and she is even more of a queen now than ever before," said junior Belle Scholles.