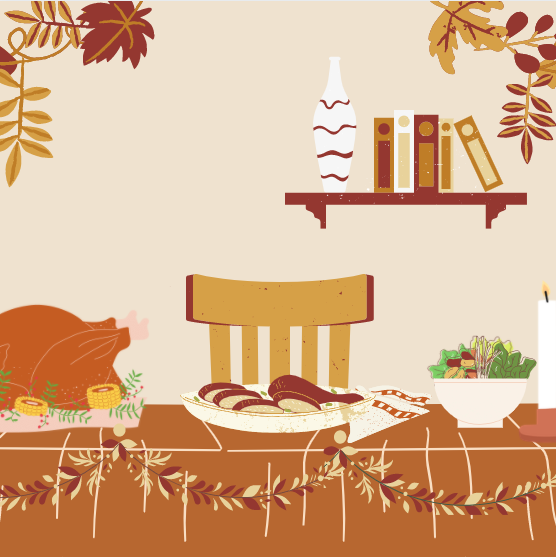 You Love 'Em Right?
5 Tips to Survive Your Relatives During Thanksgiving
November 24, 2021
   Are you mentally prepared for another hours-long family Thanksgiving dinner? If not, here are five tips to help you not just survive, but to thrive:
Plan out deflection tactics ahead of time
   Immediately bombarded by the "How is school? Do you like your classes?" from your favorite relatives? Instead of responding with a lame-o response of "Good," a couple of well-planned questions to them instead can divert the attention away from yourself. Try asking, "tell me about Thanksgiving when you were a child." Giving your great-aunt something to talk about, preferably a long-answer response that involves a story about themselves, takes the attention off of you for a long time.
Tune them out selectively
   Ah, this is my dad's personal advice. Respect everyone's opinions, but do not take them too seriously. Avoid politics and any other controversial, possibly heated discussions.
"Sorry, I didn't catch what you said about the President…but I'd love to hear about your new pilates class!"
Sit by your favorite family member
   Offer to set out a name card on the table for each guest. This gives you the convenient opportunity to seat yourself next to your favorite, equally-snarky-as-you relative. Fun, constant side commentary is now always within reach!
Overload on carbs and sugar
   Load up your plate with those mashed potatoes, buttery rolls, jello, and pie. Launch yourself into a semi-conscious state of slap-happiness to take the edge off. You might find the small talk with that long-lost uncle much less tedious. Kayla Busby, 11, said, "We always have the best food because my mom's family are all amazing cooks. I just stay by the food or my little cousins and away from all the people." Trust me, you'll feel much more relaxed. 
Pro Tip: Wear pants with an elastic waistband to ensure comfortable consumption of endless amounts of dessert.
Have an exit strategy
   Those dishes won't clean themselves! This is the perfect chance to use your parents' favorite quote against them! By offering to wash the dishes, you will win over all your relatives and you can escape to the kitchen away from your grandma's suffocating hugs. 
   So, even after you read these tips with an evil, gleeful smile on your face, you know that somewhere, very deep down, you love your dysfunctional family and that regardless, Thanksgiving will prove to be a unique experience unlike anything else.
Navigating Black Friday
   Thanksgiving.
   The time of year when we get three days off of school in a row. The time of year when we eat so much food that we are stuffed to the brim. The time of year when family and friends gather together to have a feast.
Then, the sky begins to darken and the Black Friday extravaganzas begin.
   This infamous day that happens once a year has a buzz around its reputation. The rush around these deal breakers is loved by many people in America.  As soon as the Thanksgiving day meal and traditions are over, many people hurry to their local shopping centers and let the spree commence.
  But, it does not have to be this way for all that want a piece of the action.  In this day and age, navigating Black Friday can be as easy as clicking a few buttons—which could be a great solution for people not wanting as much stimulation. Business Insider reports that Amazon is launching a new Black Friday project.  Their advertisement is called Epic Deals, which teases a variety of items that will be on "super sale". An ideal situation—sitting on your couch ordering your favorite things at a discounted price.  What could be better? No need to worry about finding parking in the busy lot, maneuvering through crowds, and fighting over the last item in stock. 
   Each person has their own ideal Black Friday. Some enjoy the adrenaline pump of running through stores scavenging for what is left, hoping to find gold. Others prefer to relax in the comfort of their own home, enjoying the long weekend while still being able to get a hand in the competitive deals. 
   The best way to score these deals depends on the person and their needs. In reality, who would not want to get a good deal on something they need or want? Today, Insider recommends becoming knowledgeable on what exactly it is you want to buy well before you go for the journey.  This can be done by researching online or going to the store the day before to scout out the sales.  Another way to prepare for this is to try and beat the rush—although this can be tedious. On big holidays such as Thanksgiving, every store around is usually flooded with customers.
   In general, according to Business Insider, some hot deals to keep an eye out for this Black Friday include Apple Airpod Pros, Apple MacBooks, Samsung Galaxy Smart Tag+, and Beats Studio Buds, among other electronics. Many home items are also on sale, with products like Kitchenaid mixers, Instantpots, and the famous Always Pan at a heavy discount. For the more active shoppers, Fitbit, Lululemon, and Hydroflask are also featuring some great deals on some of their latest products. In general, there are deals in almost every department.
   Your Black Friday adventure will lead you on an intricate journey based on your preferences and motivations throughout the day. Black Friday is not for everyone, but your experience can stray away from the stereotypical Black Friday festivities.
   It may seem intimidating at first, but the best thing about Black Friday is that it can be unique and tailored to your specificities like a glove. This event does not need to be stressful and worrisome, which is usually a common thought among people when they hear the words 'Black Friday'. 
   The momentous day can have a special meaning to every person that differs from the rest. Black Friday holds its own version of flexibility in order to be applicable to people's needs. That in itself is the beauty of Black Friday.