The Nightmare Before Christmas? Or Halloween?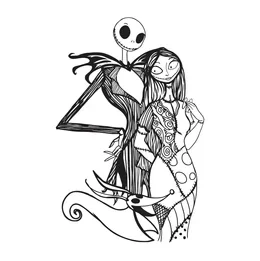 Halloween is fast approaching, and with this beloved holiday comes beloved movies. Whether you like horror movies, Disney Channel Monstober throwbacks, or even Hallmark's fall flicks, there's something for everyone. 
   Personally, I always love to watch Tim Burton's The Nightmare Before Christmas. The score is hauntingly memorable, and I love the classic stop-motion animation. Most of all, I like to watch this movie in October. For years, people have debated on whether or not this movie should be placed in the Halloween or Christmas category. But in my mind, it's a Halloween movie through and through. 
   When I was younger, I refused to watch this movie because it scared me. It still does, to an extent. Isn't that why we love to watch movies like this one during this time of year? It's thrilling to watch something that spooks us, to feel like we're living on the edge, even from the comfort of our couches. I can't say that any Christmas movie has ever freaked me out, which automatically puts it in the Halloween category for me. 
   Yes, there are Christmas songs, characters, and themes throughout the movie. The word "Christmas" is literally in the title. And honestly, I would classify Jack Skellington's rendition of "What's This" as a Christmas song. But the Halloween themes and elements far outweigh the Christmas spirit in this movie. Most of The Nightmare Before Christmas takes place in the town of Halloween, where there is an endless supply of spooky monsters and creepy goings-on. When I picture myself watching this movie, I think of curling up on the couch with a fire in the fireplace and a pumpkin spice-scented candle burning. I don't picture myself next to the Christmas tree with a warm mug of hot chocolate.
   Between the slowly-developing romance between Jack and Sally, the beautiful animation, the hit score (who remembers when "Kidnap the Sandy Claws" went viral on TikTok last year?), or even just the fun spooky vibe of the whole thing, everyone can find something they like in this movie. Everyone should watch it, but only at Halloween.