Bagels!
Ranking Cincinnati Bagel Shops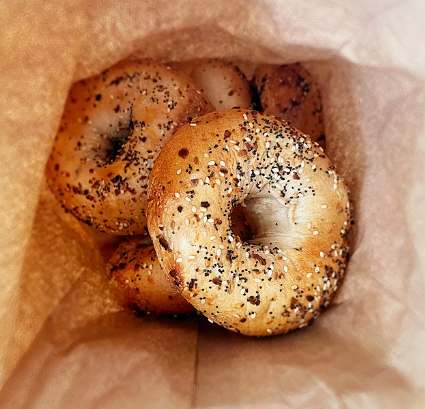 Bagels. Delicious doughy spheres that have been around since the 17th century. While they have a surprisingly debated origin, bagels were most likely first developed in Karkow, Poland by Jewish people. During this time, Jewish people were banned from baking bread and making a bagel was an alternative way to get the same nutrients without the punishment. 
   In the 19th century, many Jewish people began to immigrate to the United States because of political unrest in Europe. A large number of these immigrants settled in New York, and they brought bagels with them! The bagels that they created are now called "New York-style," and the dough is boiled in water to create its signature taste, texture, and leathery skin. Many bagel shops make this style to stay true to the original cooking. Today, bagels are a favorite food of many Americans and they are definitely my favorite too. If you are looking to try bagels out for yourself, or just need a new favorite shop, keep reading!
   One of the most well-known bagel shop chains is Bruegger's Bagels. They advertise "authentic New York-style" bagels, and they have a simple but well-rounded menu. Their bagels have leathery skin, and are pretty doughy compared to other bagels. There are many Bruegger's shops around the Cincinnati area, and the closest one to SHS is located at 9590 Kenwood Rd. Bruegger's also makes their own cream cheese, with flavors ranging from plain to jalapeno and strawberry. I always go for the plain on plain combination, a simple but classic pairing that Bruegger's pulls off pretty well.
Flavor: 3/5
Texture: 3/5
Variety: 3/5
Overall: 3/5
   Another common bagel stop is Skip's Bagel Deli, located on 12092 Montgomery Rd. They offer many types of bagels, as well as other foods, such as salads and soups. Their bagels are large, and they are also "New York-style." This is a locally run business, and it has been around since 1996. I think their bagels are pretty good and they stay more true to the New York-style than Bruegger's does. 
Flavor: 4/5
Texture: 3/5
Variety: 4/5
Overall: 3.5/5
  Bagel and Deli shop in Oxford has an amazing variety of bagels. Located on 119 E High St, Oxford near the Miami University campus, this small bagel shop has been around since 1975. It has 90 different selections, which are all pasted on their walls with fun cartoons and drawings. The bagels have names like "Pig in the Mud" and "Neapolitan." These bagels are very good, and all the different ingredients are fresh and work together nicely. It can be overwhelming to have so many choices, but there are so many great ones that you can't really go wrong! I got the "Crunch and Munch" bagel, and it was really good!
Flavor: 4/5
Texture: 4/5
Variety: 5/5
Overall: 4.5/5
   Marx's Bagels. Definitely the favorite on this list, and rightfully so. They are the most authentic bagel on this list, and they have a great flavor and texture. The interior has a retro feel, and they have a good variety of bagels. The shop also has a rich history, started by John Marx in 1969. Since then their bagels have stayed true to their original, delicious recipe. Their bagels are light, with a thinner outside skin. They have a more oval shape, and are pretty big. My favorite from Marxs is the chocolate chip bagel, and it's the perfect mix of sweet and savory!
Flavor:5/5
Texture:5/5
Variety:4/5
Overall: 5/5