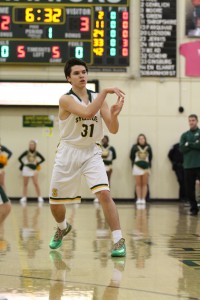 The SHS boys varsity basketball team is trying to rebound. They started off 0-5, which was tied for last in the conference. Now, they are 3-4 within the conference and 6-7 overall, which is sixth  in the conference.
SHS is only one game behind Oak Hills and Mason for fourth place, and just two games behind Fairfield for second place in a tight Greater Miami Conference.
Bright spots for this team include Mitch Hill, 12, who is leading the team in points and rebounds. Wead has been shooting lights out in the last five games, with 14 points against Middletown on Jan. 28. Jalen Shropshire, 11, is leading the team in assists.
Even though we got off to that slow start, I think we will be able to pull it together and catch Mason," said Jannan Sivaruban, 9.
Story continues below advertisement
"The turnaround has been very encouraging, but hopefully it is not too little too late," said Max Torem, 9.
SHS' next game will come against Oak Hills on Jan. 31.