Richard Sherman's post game rant incites controversy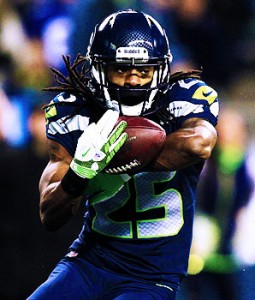 Richard Sherman may have made the biggest play of the Seahawks season but in many people's eyes he made the biggest mistake of his season.
The post-game rant that followed was a trending topic on Twitter for 26 hours after the incident and he gained over 200,000 Twitter followers after the rant.
The interview conducted by Fox Sports reporter Erin Andrews sparked a nationwide controversy and has been one of the leading Super Bowl storylines going into Sunday's matchup with the Denver Broncos.
He has been labeled a thug by many in the nationwide population and he was also fined 7,875 dollars for taunting during the game after he broke up a pass to Michael Crabtree in the end zone that was picked off by teammate Kam Chancellor.
That play which ended the season for the 49ers has put Sherman in one of the brightest national spotlights in this NFL season.
The backstory to this event is the confrontation between Crabtree and Sherman at a celebrity charity event over the summer.
According to Sherman's brother, Crabtree arrived at the event and met Sherman but after they shook hands tried to start a confrontation.
This then sparked a Twitter debate between the two where they both took shots at each other including Sherman calling Crabtree "a mediocre receiver at best." Crabtree lead the 49ers last year with 1,105 yards receiving while Sherman led the NFL this year with 9 interceptions.
While Sherman has since apologized for the rant the debate still continues on whether the Seahawks can stay focused with this distraction and whether Sherman can back up his bravado.