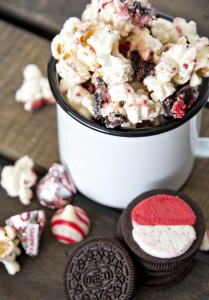 As snow begins to fall, the feeling of winter has finally set in. For me, the essence of winter is peppermint, and I have somewhat of an obsession with it. While the frigid temperatures force me to stay inside, one of my favorite things to do is making holiday treats, most of which include peppermint. Here are some of my favorite holiday treats (which feature peppermint, of course).
1.      Peppermint Bark Puppy Chow
Ingredients:
6-7 cups Rice Chex cereal
2 cups White Chocolate Melts (Or Almond Bark)
1 3/4 cups crushed candy canes, about 15 or so
Directions:
Story continues below advertisement
 Place cereal in a large bowl.
Melt your white chocolate melts or almond bark on the stove top over medium-low heat and stir until smooth.
 Pour melted chocolate over cereal and gently fold until covered.
 Dump into a large plastic bag (or large tupperware with a top) and add crushed candy canes. Shake until covered.
 Dump onto a cookie sheet to cool and enjoy!
2. Peppermint Cheesecake Brownies
Ingredients:
Cheesecake batter:
1 (8-ounce) block 1/3-less-fat cream cheese
1/3 cup granulated sugar
1/4 teaspoon peppermint extract
1 large egg
1 large egg white
1 tablespoon all-purpose flour
Brownie batter:
4.5 ounces all-purpose flour (about 1 cup)
1/2 cup unsweetened cocoa
1/2 teaspoon salt
1 1/2 cups packed brown sugar
1/4 cup canola oil
1/4 cup buttermilk
2 teaspoons vanilla extract
2 large egg whites
1 large egg
Cooking spray
Directions:
Preheat oven to 350°.
 To prepare cheesecake batter, place cheese in a medium bowl; beat with a      mixer at medium speed until smooth. Add granulated sugar and peppermint extract; beat well. Add 1 egg and 1 egg white; beat well. Add 1 tablespoon flour; beat mixture just until blended.
To prepare brownie batter, weigh or lightly spoon 4.5 ounces (about 1 cup) flour into a dry measuring cup; level with a knife. Combine 4.5 ounces flour, cocoa, and salt in a medium bowl, stirring with a whisk. Combine brown sugar, oil, buttermilk, vanilla, 2 egg whites, and 1 egg in a large bowl; beat with a mixer at medium-high speed until well blended. Add flour mixture to brown sugar mixture; beat at low speed just until blended.
 Reserve 1/2 cup of brownie batter. Pour remaining batter into a 9-inch square baking pan coated with cooking spray. Carefully pour cheesecake batter over top; spread evenly to edges. Dot cheesecake batter with reserved brownie batter. Swirl top two layers of batters together using the tip of a knife. Bake at 350° for 26 minutes or until top is set. Cool completely in pan on a wire rack.
 3. Chocolate Peppermint Popcorn Munch
Ingredients:
20 Candy Cane Oreos, crushed
Four dozen Candy Cane Kisses
Two bags of microwave popcorn (natural, and regular size, not snack size)
Directions:
Pop popcorn and remove any unpopped kernels.
Lay waxed paper or foil out on a large cookie sheet and spread popcorn out on top of the waxed paper. Sprinkle with crushed Oreos.
Melt kisses slowly in the microwave. Place kisses in a microwavable glass dish. Heat for about thirty seconds to a minute, stirring at 10-15 second intervals with a dry spoon. When it's almost completely melted, remove from the microwave and continue to stir      until all chocolate is melted.
Pour melted kisses over popcorn. Carefully stir to mix in chocolate.
Allow 1-2 hours for chocolate to harden. Store in an airtight container. Popcorn munch is best if consumed within 24 hours.
For more winter treat recipes click here.