Not a Super Bowl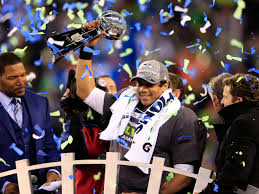 This was one of the most hyped Super Bowls in recent memory. Historical great Peyton Manning vs. upstart Richard Sherman and the Seattle secondary. No one could have predicted the 43-8 blowout in favor of the Seahawks.
The Broncos were down before Seattle even got the ball, after an errant snap landed in the end zone and was downed by Knowshon Moreno. This was the closest the Broncos got all night. The only scoring play for the Broncos was in the third quarter when the game was already out of question.
Most people weren't concerned with the score by the time half time came around, it was 22-0 at that point, but about the halftime show put on by Bruno Mars. The game felt out of contention after the Broncos had turned the ball over twice in the first half and had looked completely out of sync.
The Bronco's seemed to choke as the number one offense failed to put up any substantial amount of points. Payton Manning seemed to shrink under the spotlight and was forcing the ball in to bad positions resulting in a pair of picks.
Seattle realized at halftime that they won the game and didn't let up. They were barley concerned with playing the second half. Marshawn Lynch even took his cleats of with over ten minutes to go in the game.
One of the biggest surprises of the game was who the MVP of the game was. Malcolm Smith had an interception return for a touchdown and a fumble recovery which earned him MVP honors.
In the end this game was another big game that simply did not live up to the hype and failed to give fans even a little bit of tension or drama that super bowl fans were accustom of seeing as the NFL's biggest game.