Come one, come all to Cabaret
Cabaret is here again.  This year it is to be held in the Commons on Feb. 22 at 7:00 p.m. Cabaret is a place for singers to show their talent in a peaceful, low-stress atmosphere.
"The auditions this year were particularly strong, featuring alternative, musical theatre, classical, and folk music.  There will be solo performers, duets, and a trio taking part.  This event transforms the commons into an intimate, candlelit coffeehouse.  It is a neat event that features members of the choral program," said Kenneth Holdt, choir director.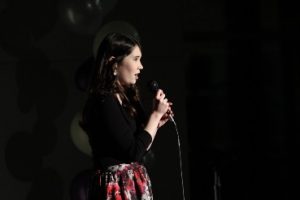 Cabaret also provides sweets and coffee, which the audience can enjoy while the students are performing.
"I had a really good time last year, and that is why I decided I wanted to do [Cabaret] again this year," said Emma Steward, 10.
The performances are to be as follows: Katie Amster and Neha Srivatsa, both 11, with "I Wouldn't Mind It;" Elsa Benson, 9, "Goodnight My Someone;" Amanda Beyer and Ashley Vorpe, both 10, "Call for You;" Beyer with "The Way I Am;" Sammy Ciricillo, 11, with "There's a Fine, Fine line;" and Jack Fry and Brandon Lombardi with "Timshel."
Then it is Loren Hamilton, 12, with "The Show;" Jeremiah Hunter, 10, and Megan Sulfsted, 11, "Free to Be me;" Gil Kaplan, 12, with "Ophelia;" Amy Kohmescher, 12, with "Yesterday;" Giulia Mezzabotta, 12, with "The Winner Takes it all;" Paul Phillips, 11, with "Honesty," Kristen Revely, 11, "Colors of the Wind," Revely and Laura Tirey, 12, "If I Die Young," Andrew Rines with "What Don't You See," Allison Rogge, 11, with "Skinny Love;" and Elizabeth Rosenberg, 12, with "Intorno all'idol mio."
Finally it is Rosenberg, Jamie Ross, 12, and Komescher with "The Parting Glass;" Ross with "I'd Give My Life for You;" Ross and Alex Montchai, 10, with "Love Is An Open Door;" Steward with "Someone Like You;" Sulfsted with "Mad World;" Marissa Wyrick, 11, "Se Tu Ma'mi;" and Wyrick and Nick Frankowski, 11, with "Say Something."
Tickets are $10 in advance and at the door.  The tickets can be single sale or sold in a table of up to 10 persons.