Senior night success: girls basketball players execute in their last home game
Family and friends equipped with posters, signs, and even painted chests packed the stands on Senior Night for the girls basketball team.
The final home game of the season is often an emotional one, as it is the last time many of the players will be competing on SHS home turf.
After a passionate pregame talk, the Varsity Lady Aves took the court against the Princeton Vikings.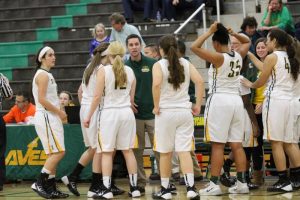 Although the Vikings are the top GMC team and a nationally ranked high school team, the Lady Aves seniors started out the game strong and played the Vikings even for majority of the game.
"The game was so exciting," said Evelyn Goodyear, 10. "We love our seniors and I think that's why we played so hard this game."
Although the end result was a loss, the game was a season and career highlight for many of the players.
Each senior contributed to the game in some way. Even injured player Erin Glass, 12, stepped in for the last few seconds of the game to end her basketball career on the home court.
Despite the teams' losing record, some team members feel their record does not reflect how the season went overall.
"It took us a while to figure out things on the court but once we did we had a lot of success. It was really cool to see the transformation," said Grace Louis, 10.
In addition to improving as players, the players also grew together as a team.
"Even though the season started out rough we always had fun, stayed positive, and never gave up on each other. I knew I could trust everyone on my team," said Louis. "My teammates are my rock. They made me a better player and person this season."
The varsity team takes on Harrison in the first round of the end of the season tournament on Sat. Feb. 15 at Lakota East High School.
Senior night senior stats:
Rachel Wright                                                 4 points
Hannah Melvin                                               7 points
Anna Condron                                                 3 points
Kierra Hamm                                                  9 points
For more season stats go to www.gmcsports.com.
About the Contributor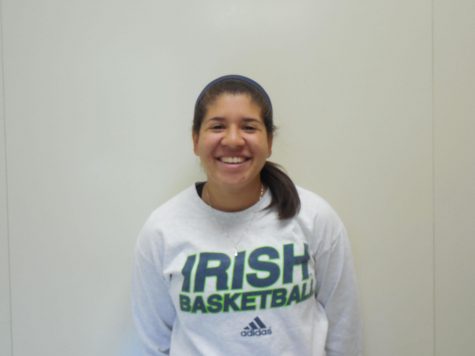 Lauren Saxon, Print Editor-In-Chief
I'm a senior at SHS. This year, I'll be working as The Leaf magazine's editor-in-chief. After four years on staff, I have learned a tremendous amount...