Fly Away Home:' Author's debut novel hits home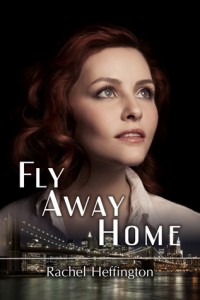 Many historical fiction novels can seem unrealistic or too romance filled. First time author Rachel Heffington provides the reading public with a whole new perspective of historical fiction.
"Fly Away Home's" storyline is summarized on Goodreads as follows:
"Self Preservation has never looked more tempting.
1952 New York City:
Callie Harper is a woman set to make it big in the world of journalism. Liberated from all but her buried and troubled past, Callie craves glamour and the satisfaction she knows it will bring. When one of America's most celebrated journalists, Wade Barnett, calls on Callie to help him with a revolutionary project, Callie finds herself co-pilot to a Christian man whose life and ideas of true greatness run noisily counter to hers on every point.
The new friendship sparks, the project soars, and a faint suspicion that she is fall for this uncommon man grows in Callie's heart. When the secrets of Callie's past are exhumed and hung over her head as a threat, she is forced to scrutinize Wade Barnett and betray his dirtiest secrets or see her own spilled.
Here there is space for only one love, one answer: betray Wade Barnett to save her reputation, or sacrifice everything for the sake of the man she loved and the God she fled. The consequences of either decision will define the rest of her life."
"Fly Away Home is a book in really its own category. It is historical fiction, sort of romance, and also Christian fiction. This book has a little of everything. The references to classic books may delight any avid readers of classic fiction.
Cat lovers will adore Nickleby, the heroine Callie's feline friend, who plays quite a significant part in the story.
The characters and setting is interesting and quirky. It may be surprising to readers to learn that this is the author's first novel, for the book seems very professional and the writing sounds as though an experienced writer wrote it.
I am enjoying this book greatly. To find out more about the book and its author, visit her website at http://inkpenauthoress.blogspot.com/. The book is also available in e-reader format for only $3.99 on Amazon.