Spring track athletes join winter team at informational meeting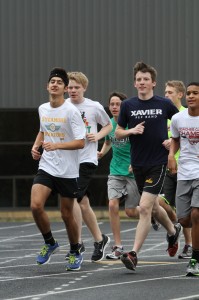 As Winter Track athletes near the climax of their season, they also must prepare mentally for the filter into spring. On Feb. 18, the future came into focus as more than 100 individuals gathered for an informational meeting.
"This is the crazy time where indoor and outdoor track meet each other. The winter sports are finishing, and a lot of the kids who haven't been involved in anything come out to participate," said Mr. Hank Ray, head coach.
The winter season has already established a camaraderie among the indoor track athletes, adding a collection of stories and inside jokes before spring conditioning begins.
"I certainly have made bonds I didn't make last year during spring track. I can trust my teammates. I have developed friendships with a lot of freshmen and upperclassmen-people I don't normally talk to," said Ali Garcia, 10.
That foundation, along with the Indoor State Competition on Mar. 8 at the University of Akron, only adds more excitement toward the upcoming spring season.
"Even though we lost some good seniors last year, we definitely have a lot of good athletes. I feel like my teammates are more like family to me," said Lisa Ruffin, 11.
"A lot of freshmen are also coming in this year, so I'm excited to see how they do, especially because my sister is a freshman."
The first official week of conditioning for the spring track team will begin Mar. 3, which is also the last week before the Indoor State Meet.