Varsity Gold tennis serves up success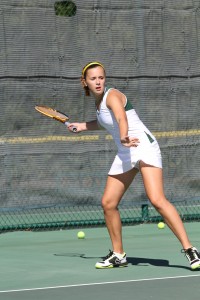 The atmosphere tenses as Alexandra Abele and Margaret Skwara, both 10 ,hit their shots across the tennis courts. The supporters of the Girls Varsity Gold tennis team erupt into cheers as they have just won the sectional championship.
"It felt amazing to be playing together with Maggie and work each point towards our success. It really helped that so many supporters were there and I know we will do well at districts," said Abele.
The sectionals tournament is a competition played with schools all around the area, and those who reach the semi-finals round qualify for districts. Those who then reach the semi-finals for districts qualify for state.
"I think Alexa and I make a really good team and we show a lot of spirit and passion when we play. We qualified for state last year so I believe we can do it again this year," said Skwara.
The tennis team has not only succeeded in the sectional tournament but other tournaments as well. For the city-wide Coaches' Classic tournament the team took home first place. They also came in a close second at the Greater Miami Conference (GMC).
"I think that this season has been one of our bests. Even with the home-court advantage taken away, we were able to be brought closer together and achieve many great things," said Grace Kays, 12.
For more on Varsity Girls Gold tennis, click here.