Christian Howes accompanies SEE1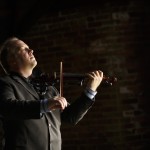 Violins are associated with Mozart, not Foo Fighters. Cellos play songs written by Bach, not Imagine Dragons. However, Sycamore's Electric Ensemble (SEE1) played songs by popular rock groups to make an outstanding concert of Feb. 21.
They did not perform alone, though. They were joined by acclaimed jazz violinist, teacher, and producer Christian Howes.
"I was five years old when I started playing violin, and my parents made me do it. Later on, I fell in love with it," said Howes.
Howes does not always play the classical violin. His first instrument of choice is an electric Yamaha he calls "Phoenix."
He also uses equipment like loop pedals and effect pedals to distort, amplify, or alter the sounds. Effect pedals can make a violin sound like a guitar, choir, or something that is completely impossible to describe.
Howes has been coming for four years to perform with SEE1.
"I like SEE1," he said, "because the kids all have to work together like a team  and they all get a chance to have their own creative input."
During in-class workshops that Howes hosts each year he comes to Sycamore, he encourages students to use improvisation as a creative outlet. Since he is a jazz violinist, improvising is a huge part of each performance.
"The kids in SEE1 can improvise on stage, which is really important for them musically. They should get a chance to do what they want to," said Howes.