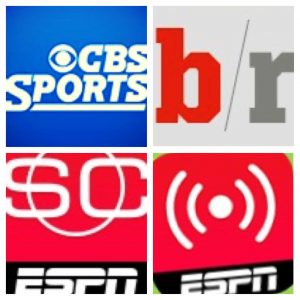 With all of the recent collegiate and professional sports ending and beginning, every sports fan needs a quick, open and go application to keep up with their favorite teams, athletes,and scores.
These are the top four apps available in the Apple App Store and Android Market that will keep every sports lover happy:
4. ESPN ScoreCenter is an all-inclusive app that displays hundreds of scores each day. Sports fans are able to customize the scores and news that they see, and can set the app to send an alert to the phone as news breaks. This application does shut off sometimes, for no apparent reason, but is a solid pick up.
3. ESPN Radio lets the user stream thousands of sports radio stations around the United States right to their mobile device. The user can listen to sports talk shows, live broadcasted games, and more for twenty four hours a day, seven days a week.
Story continues below advertisement
2. Bleacher Report by TeamStream is an app that is based off the website Bleacher Report. Scores, breaking news, and pop culture, are just some of the few features that this news based app can bring to the user. One can also import their favorite team and receive up to the minute information to stay "in the loop."
1. CBS Sports is a recently renovated app that provides a simple, user-friendly layout. The user can customize it in any way they want, and over 25 different sports are covered. Not to mention, the app also tracks High School sports scores, along with National Collegiate Athletic Association (NCAA) Division 1 and 2 scores.
These apps are must haves for any sports fan, and will keep you up informed every minute of the day with different sport stories and scores.