Baseball players prove why they're worthy
It is that time of the year again, spring sports are ramping up and tryouts are underway. Coach Chris Shrimpton and assistant coach Josh Mason organized baseball tryouts.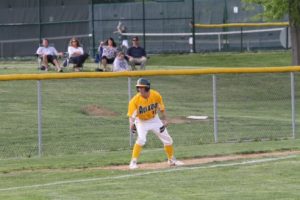 "I am really looking forward to see what Coach Mason brings to our baseball team," said Ryan McCann, 11.
Tryouts started at 5:00 p.m., but players and coaches were told to be here at 4:30 p.m. in order to turn in all forms such as your physical, emergency medical form, concussion form, and athletic eligibility.
The players are scheduled to tryout until 8:00 p.m. If three hours of tryouts aren't enough, Coach Mason let all of the pitchers and catchers know that they will be coming in early at 6:00 a.m. and practice for one hour until 7:00 a.m.
"It is extremely hard getting up at 5:00 a.m. every day. During school, I usually don't even get up until 6:00 a.m. or 6:15 a.m. anyway," said Benjamin Grossheim, 9.
First cuts were scheduled to happen on Feb. 26 and on Feb. 28, but both coaches opted to wait another week and make final decisions then.
A little more than 50 kids tried out for three teams this year. All the freshmen have already made the freshmen team, yet some of the talented freshmen have been bumped up to JV and in some cases Varsity.
"Regardless of what team I am on, I just want to play baseball and have fun," said Nicholas Wade, 9.
Players are hoping to turn the baseball program around. Last season the varsity team won five games and lost 18. They are hoping to right the ship and take control of the GMC.