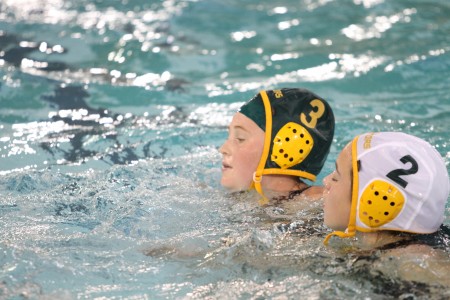 Though the girl's season ended in the end of Sept., the players will not let that stop them from playing the game they love.
"For the past two weeks we have had 'open pool' time where we were able to get in the pool and practice for two hours," said Jessica Wei, 10.
At these practices the players are able to get the practice they need to be successful and set their goals for next season.
"We know that in order to achieve our goals we are going to have to work extra hard because we lost so many seniors," said Jory Gould, 10,
Story continues below advertisement
The team graduated nine seniors, leaving the team with big shoes to fill. Using this as inspiration, the girls will work harder than ever.
As well as assisting in the player's skill, the practices help bond the team together. The closer a team is the better because they will be able to play more cohesively.
"I definitely think that being close to your team is an important part of the game," said Gould.
As well as having open pool practices, the team will have the opportunity to continue their training with the Moose water polo club.
Moose, as the players call it, is a competitive water polo club. Both of Sycamore's coaches, Gary Tameris and Nick Hellwig, coach the club.
Many of the players are also swimmers, and will swim with a club team until the water polo season commences next fall.
Whatever they are doing, the players are making sure that they are prepared for next season.  For more information on the Sycamore water polo program click here.