Varsity football eyes vital week five matchup
Coming into the 2013 football season, Scott Dattilo,  Varsity football coach, expected nothing less than a GMC title from his players.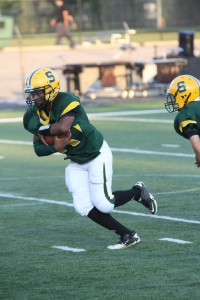 After an incredible nine win and two loss 2012 football season, only losing to Elder in the postseason by the final score of 49-42, this season looked to be a great one with several key players returning.
"This season I am really hoping that the football team does very well, after two disappointing losses in the playoffs the last two years I am hoping we can finally get over that hump," said Caleb Ferrell, 11.
During the regular season last year, the football team had only one bump in the road and that was week five against Colerain.
The team was in an early hole right from the start as we were down 21 to zero halfway through the third quarter. The start of the fourth quarter they were down 28 to seven before scoring 14 unanswered points in the span of seven minutes.
They lost by a final score of 28 to 21. Greg Simpson ran for 187 yards on 29 carries and was a lone bright spot along with Marcus James, '13.
"I came to that game last year to support the team and I was shocked to see all of the SHS fans cheering and rooting for our beloved football team," said David Muskal, 11.
"If the football team makes the playoffs, I am willing to travel wherever the team plays and fully support them," said Trevor Morgan, 12.
If the team does indeed advance in the playoffs, it will be a first since 2006 when Dattilo came here. In the previous two years, the football team lost to Moeller in 2011 by a final score of 31-21. In 2012, they once again lost to Elder after a back and forth battle.