For any Aves Theatre production, Mr. John Whapham, Aves Theatre director, gathers his actors and crew to review notes at the end of each dress rehearsal. It is almost a tradition.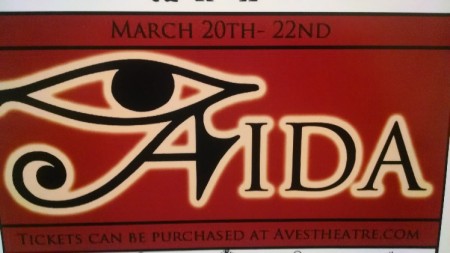 It seemed that tradition would continue on the evening of Mar. 18- two days before "Aida" was to open. Indeed, Whapham gave announcements as usual, but then gave an instruction quite foreign to the participants: no dress rehearsal Mar. 19.
Apart from leads and crew working with lighting for one hour, show members were to be given a day off.
This decision was not made because the show lacked in quality; on the contrary, the production is tremendous, directors say.
Story continues below advertisement
"We think the production is in a really good place. I think a day off will be good for our actors and crew to get rest, especially because this show is so demanding," said Ms. Sarah Garvey, Aves Theatre assistant director.
On the actors' side, reactions to the decision varied. Alexander Montchai, 10, who plays Radames in the production, agrees with the decision.
"It puts the actors on edge, which always makes for a good show. It will hopefully bring more energy and raise the moral of the group for when the production opens," said Montchai.
However, a day off can also have adverse effects, according to Elizabeth Rosenberg, 12, who is an ensemble member in the show.
"It messes with our mental preparation, but I also think it is so strange simply because it is so different from years past. We have never had a day off before a show," said Rosenberg.
Effects of the decision cannot be fully determined until after opening night. Ultimately, the level of impact is a decision left to the participants.
"People are predicting how they will be impacted, but the most important thing to remember is that we've never done this before. We are hoping that the result will be good, but this is just different," said Garvey.
"Aida" will be performed Mar. 20-22 at 7:30 p.m.