Working out details: Spring Track hurdles Spring Break
The saying goes that it takes three weeks to get into running shape, and one week to lose it. With spring break fast approaching, that is one of the main worries for the Spring Track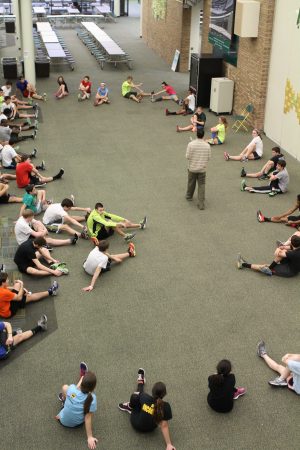 team.
In the first week after the break, the athletes face one of their biggest meets of the season: The Coaches Classic, held at Winton Woods on Apr. 9 and 11 for the 2014 season.
Mr. Hank Ray, head coach, does not require his runners to stay in town in order to practice. Nonetheless, he encourages those leaving town to do some sort of workout at least three of the seven days off.
"I want them to stay safe and healthy so that they can compete when they get back. We need every person on our team," said Ray.
Ray has voiced his vision during practices in the week preceding the break. Close to half of the team will not be staying home, but these athletes have caught onto his idea.
"I'm a little nervous about getting out of shape, so I will do my best to do some sort of cardio in between my college visits," said Anna Garrett, 11.
For the ones who are staying, Ray plans to have practice, but with a new spin: he is inviting junior high runners to practice with the high school team.
"I want to provide another bridge for the junior high runners into high school so that they can have that much more of an advantage when they finally arrive as freshmen.
We plan to keep it laid back so that everyone can still enjoy their spring break while keeping enough intensity so that we are still productive," said Ray.
The junior high athletes may not be the only ones to benefit; high school runners, including William Schrantz, 11, see the week as an opportunity.
"I'm excited to have the junior high kids with us because it gives me an opportunity to lead others. I will still be able to relax and maybe even watch the Reds, which is even better," said Schrantz.