Wrapped Up in Plaid
   Plaid: the fashion symbol of the 90s. When we think of plaid we think of chic punk with a rock and roll edge. Those daring to rock plaid also rock a sense of confidence, making a powerful clothing statement.
   There's no doubt that plaid has traveled from the past and made its way to present day, taking over this Fall's top fashion trend. With admiration and excitement, fashion fans welcome plaid with open arms and thirsty wallets.
   Maybe it's a love-hate relationship. You either adore it or you resist it, but no matter what view you have on this revitalizing movement, it's not hard to see that there are many different ways to pull off plaid.
   It's not a plaid shirt; it's a plaid sweater!
   This style creates a relaxed yet tasteful outfit, keeping you comfortable and looking put-together all day long. The key to wearing a plaid shirt as a casual sweater is to pair it with skinny jeans or leggings. Something that won't overpower the plaid but keep it looking casual and effortless! Under the plaid a simple tank top will finish the job.
   Or for something a little more edgy and eye-catching, partner up the plaid sweater shirt with a graphic t-shirt or a blouse with some design. This duo will surely make heads turn due to the clashing yet perfect match of the plaid pattern and the other design.
   Is that a plaid shirt or a belt?
   Yes to some the plaid shirt wrapped around someone's waist may look like it's being used to keep your pants up or as some type of method of holding it without using your hands, but here's the truth: it's a fashion trend, a choice, a lifestyle. Wearing your plaid shirt around your waist is not a fashion no-no. In reality, it has various techniques to making your outfit look on point.
  A little plaid around the waist pairs really well with a sundress or your favorite weekend dress by toning it down and making it look more casual and useful for any occasion. If that's too much then simply join it with your favorite pants and a low-key blouse.
   Plain Jane in plaid.
   So plaid has proved itself to be very versatile and able to work with many different outfits. There's nothing wrong with inviting plaid back inside the box and wearing it plainly as a button up shirt. A plaid button up is still inviting to the eye, especially if it's accessorized with a scarf and a pair of denim jeans. If you really want to wear a button up plaid shirt but think it's too much, add a vest making the plaid a little less vivacious yet still present.
   There's a reason that fashion today has opened the door inviting plaid back in: it's easy, versatile, casual, and appealing. Maybe it is too daring for some of us who enjoy subtler clothing items, but it's time to take a risk and see if plaid is right for you.
And remember: "Simplicity is the keynote of all true elegance." – Coco Channel
Sycamore Style Guide signing off…
Yours truly,
Z&O
About the Contributor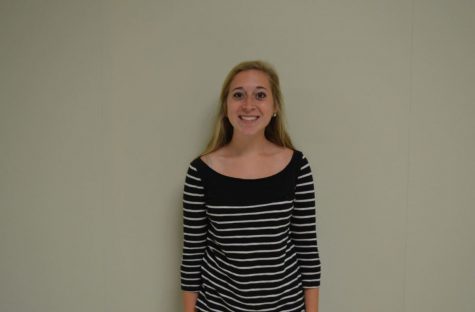 Zoe Schlosser, Leaflet Editor-in-Chief
This year marks the fourth and final year of my being a writer and designer for The Leaf and Leaflet. Starting out as an inexperienced staff writer, I...