Boys Tennis tryouts Lindner Family Tennis Ceter proceed to doubles matchups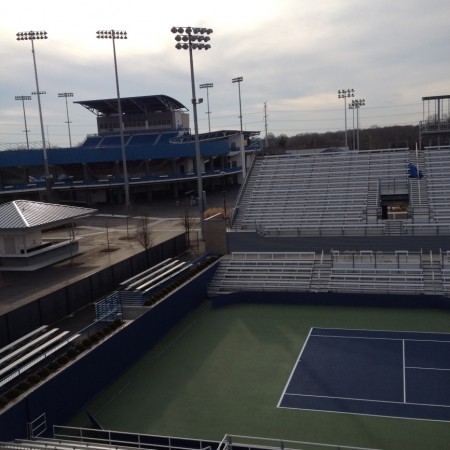 "We're walking on holy ground boys," said Shyam Parikh, 12.
Disappointment led to excitement when the boys tennis team realized that their incomplete tennis courts would give them the opportunity to play at the Western and Southern Tennis facility.
Since Mon., Mar. 10, the tennis athletes have been going through tryouts, playing a series of one-set challenge matches to determine their place on the team.
Although somewhat deserted, for some, it is easy to picture the stadiums as they looked during the summer – roaring with hundreds of fans.
"It's an amazing experience, but it's somewhat nerve wracking. When you see empty stands, it's hard not to envision people in each seat watching you play. You get a taste of the pressure real professional tennis players feel when they are on the grand stage," said Nimit Desai, 12.
These conditions, which are unfamiliar to some, can benefit or detract from a player's ability.
"Even though the court is the same size if you measure it with a tape ruler, I think that playing somewhere you aren't used to can definitely affect your game. I just try to ignore where I am and play like I usually do," said Aditya Venkitarama, 11.
"The conditions are the same for everyone; the better players are those can win points despite those conditions," said Coach Michael Teets.
And after two days of matchplay, the more successful players are already sticking out.
On Wed., Mar. 12, eight athletes were taken to the Mercy HealthPlex tennis facility to play doubles pairings.
"I think this is the first time that we've done something like this during tryouts, and it was a lot of fun," said Ajay Qi, 10.
The boys were divided into two groups, and played four game sets with different partners.
This would help to determine the team and position where each athlete would be most successful.
"This is important because someone might beat another kid in a singles match, but might lose to him in doubles. So, if we're looking for strong doubles players, then the kid who lost the singles match could still be the better option. But it all depends on the situation," said Nakul Narendran, 11.
With tryouts beginning to come to a close, the boys have a couple more days to work hard and make a final good impression for the coaches.
For more information about SHS tennis, go to shsleaf.com.
About the Contributor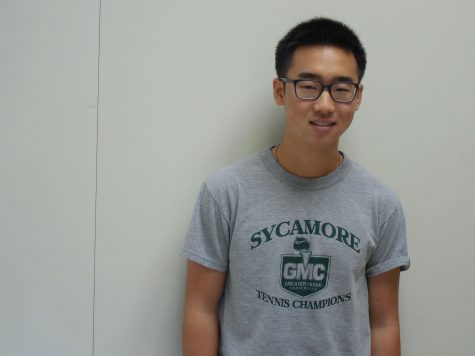 Joseph Ahn, Creative Projects Editor
My name is Joseph Ahn and this is my fourth and final year at SHS. I have worked for The Leaf for four years and I am currently acting as an associate...