UConn guard speaks out
These articles about post-game comments are becoming a little too common. First it started with Richard Sherman after the 49ers and Seahawks playoff game and now it was Shabazz Napier with his comments on the NCAA.
"Ladies and gentlemen, you are looking at the hungry Huskies. This is what happens when you ban us, last year, two years; we worked so hard for it," he said to CBS's Jim Nantz, after their national championship win over the Kentucky Wildcats.
He is referring to, what some called an unfair punishment, when the NCAA banned the Huskies from the 2012-2013 post-season due to low graduation rates from their previous classes. This was UConn's first post-season under new coach Kevin Ollie.
This new forum that athletes have begun to explore, that is the media, has provided some of the most entertaining, and controversial quotes in recent memory and should continue to be a great place for athletes to be able to express themselves.
It brings more excitement to the game when people can express themselves. It gives small insights into the mind of an athlete, which some viewers are never able to experience.
"I think we should let athletes express themselves more," said Josh Glauser, 9 "It is unfair that they are in public and never get to speak about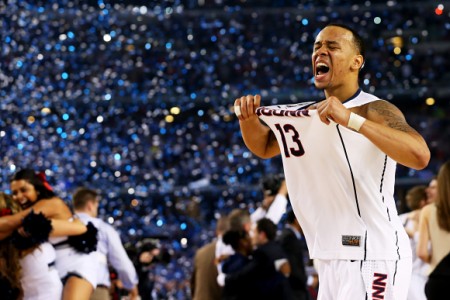 how they actually feel about an issue. They always have to be correct and never able to say anything controversial without having the media blow it out of proportion."
Even now, the second a successful athlete says anything, dozens of media outlets are taking that clip and running it over dozens of networks. Whatever they say will be played hundreds of times before they can clarify or correct themselves.
This doesn't only apply to athletes but any type of successful person in this generation. Social media has driven us to judge people based on a quote that may be taken out of context or something that may not be true.  We should let some of these people speak before we judge them.