Stowaway to Hawaii
A 15-year old California teenager shocked the world last week. He climbed over the fence at San Jose International airport and managed to climb into the wheel well of a Boeing 767.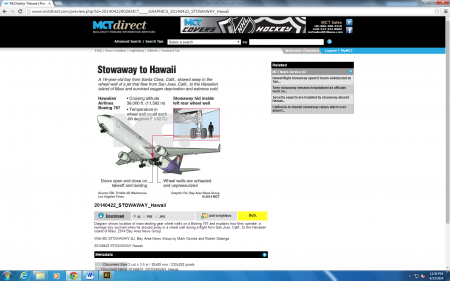 He spent well over seven hours there before the jetliner took off for Maui, Hawaii. The teen, the son of a California cab driver, attends Santa Clara High School. He reportedly moved to the school this year.
A student at Santa Clara high school said the student is shy. He told abcnews.com:
"He didn't really speak that much," said Emanuael Golla. "We were really surprised at what happened, we really didn't believe it was him."
The teen told authorities that he left home after a fight with this father and step-mother. He scaled the fence around 1:00 a.m. and after seven hours of hiding; the plane took off at 7:55 a.m.
Officials are unsure how the boy survived the five hour flight despite low amounts oxygen and temperatures approaching -50 degrees Fahrenheit.
"I cannot imagine how he survived. The conditions are unbearable to say the least," said Adam Dock, 11.
Once the plane landed in Maui, officials said the airport surveillance video captured the boy crawling out of the wheel well dazed and confused.
Maui Airports District Manager Marvin Moniz told abcnews.com that he spoke with the stowaway after the airport employees found him wandering the tarmac.
He said the teen told him he hadn't seen his biological mother since he was two years old and that he wanted to go see her. It is not clear if that was the purpose of the teen's incredible journey.
"If that may be true, I admire his courage and dedication," said Mathew Miller, 9.
The Federal Aviation Administration said about one quarter of the 105 stowaways who have sneaked aboard flights worldwide since 1947 have survived.