Sophomore stress; tenth grade prepares for first round of AP exams through other stressers as well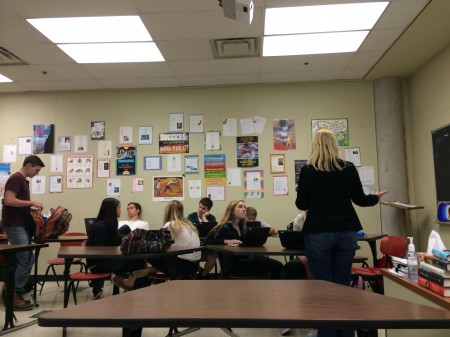 As the last weeks of the school year approach, everyone is trying to end on a good note. Sophomores in particular have a large workload in the upcoming weeks.
For one the sophomores are preparing for the class wide debate. This year's debate topic is whether or not Sycamore Community Schools should use a year round school schedule.
"I think it's a great topic. There's a lot of information pretaining to both sides and you can make a great case for either side," said Maggie Pustinger, 10.
Perhaps even more stressful for the sophomores is their first round of AP exams. Some are taking AP European History, others are taking AP Statistics, and still others are taking AP Art History. Some are even taking two or all three.
"I'm a little anxious about the AP Euro exam. We've covered a ton of information this year, and looking back through all of it seems like an overwhelming task. I'm going to use a review book to study to make it a little easier," said Eva thorn, 10.
Maya Sheth, 10, Sabrina Kaul, 10, Serena Kaul, 10, Julia Kumar, 10, Rachel Haupt, 10, and Caroline Gao, 10, are all taking the AP Latin exam. They took Latin III over the summer between 8th grade and Freshman year, and are thus a year ahead of the rest of the sophomore Latin students.
"I'm taking AP Latin, AP European History, AP Computer Science, and AP Statistics. Taking all three of those AP tests will be a bit scary, but I'm not too worried. I pay attention in the classes and feel confident that I'll be well prepared for the tests," said Sheth.
The sophomores first round of AP tests may be fast approaching, but the classes have been preparing them all year. They can look forward to much more relaxed paced classes after the tests.